Prep girls golf: Spartans look to capitalize on strong season
Finishing the regular season with an 8-1 record, the Spartan girls golf team hopes to make a postseason run.
We are part of The Trust Project.
SUPERIOR — As the Superior High School girl's golf team prepares for the WIAA Division 1 regional competition, fifth-year coach Ed Willie believes they have to step up their play.
"We're going to Division 1 now. A lot of teams in our conference (Heart O' North) are Division 2," Willie said.
On Thursday, Sept. 29, the team will head to Eau Claire's Mill Run golf course for the regional match.
Junior Autumn Cooper and sophomore Brynn Johnson aim to lead Superior to a top four spot in regionals and then move to sectionals, where the top two teams qualify for the state competition. If their team is unable to move on, the golfers who finish in the top four at Eau Claire Memorial will move on to sectionals and then the top three make it to University Ridge in Madison for the state meet.
"Autumn made it (to sectionals) last year as a sophomore … and Brynn has a good shot," Willie said. "Brynn and Autumn have been really trading off all year back and forth. In fact, they both ended up with the exact amount of conference points with 35," Willie said.
Their play this year secured top 10 finished in the conference for Cooper and Johnson.
Willie points to a changing dynamic on the team over the last several years as one of the factors in their success.
"The girls who graduated were my first group when I came in, my first year back, and they helped change a culture … because they've made it (golf) cool again — kids can take a risk and try something new."
His current group, captained by Cooper and Johnson, are carrying on the culture beautifully, he said.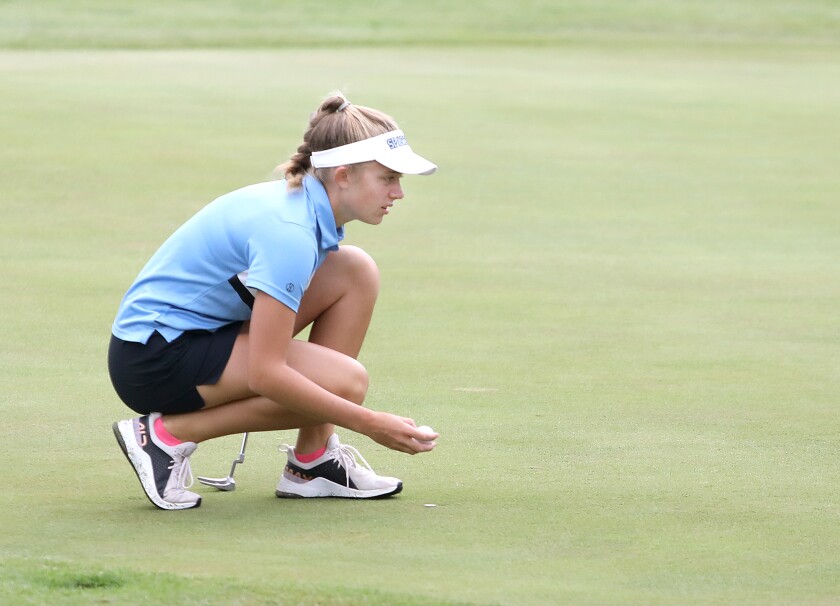 The other two reasons that Willie pointed to for the team's success is support from the school and the community. Athletic Director Ella Olson and assistant coach Kim Willie have shown the team great leadership, along with Tom Beaudry, general manager of Nemadji Golf Course.
"The staff is so generous to us, they let us hit golf balls all the live long day, and you can really improve your scores just by hitting a golf ball," Willie said.
Cooper is looking to make it past the regional competition for the second year in a row after making it to sectionals as an individual last season. She shot a 94, which put her in a three-way tie for 22nd with teammate Keely Morehouse and Tomah's Madeline Ewers.
Cooper has been going out to the golf course about once a year with her parents since she was young, but now tries to golf any time she can. She plays for the Spartan girls hockey team when snow covers the golf course.
"It's been a fun season, what were we Willie, 8-1?" she asked her coach. "But it's been a fun season with new girls playing."
Cooper was straightforward about her goal going into the postseason.
"The goal of regionals is to make it to sectionals," she said.
The junior captain said she believes many of them are within reach — they just need to play each shot and not overthink it.
Johnson has golfed her whole life at Botten's Green Acres in Lake Nebagamon, which is owned by her cousins. She was also getting lessons at Norwood in Lake Nebagamon. She began golfing competitively as a freshman, but it had always been a thought in the back of her head.
For Johnson, even the best parts of the sport are tied to her performance on the course.
"Recently, I've been able to connect with more girls, and we've had more time to talk and just hang out, which helps with my swing because I'm not thinking about it as much," she said.
Last year Johnson missed a lot of the season and she said she's looking forward to the opportunity to golf having a full season, after missing the cut-off by four positions last year.
"I definitely hope to make it to sectionals," she said. "I've been struggling with my shoulder, so I'm trying to get that back in shape for regionals, but I just really hope to make it."