Wisconsin wolf kill exceeds quota by more than 50%
Use of dogs, fresh snow, more permits and higher wolf population led to a much higher wolf harvest than expected.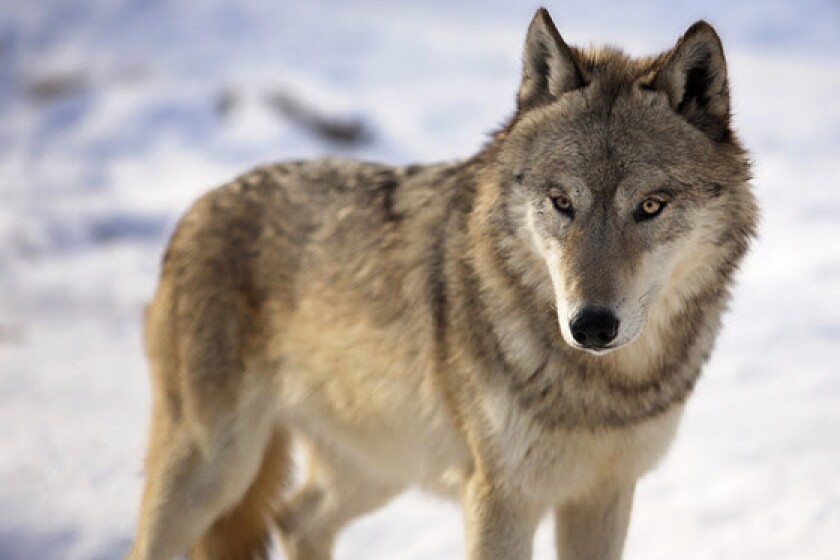 Hunters and trappers in Wisconsin killed 182 wolves in less than three days during the state's first wolf season since 2014, more than 50% above the quota of 119 wolves set by the Department of Natural Resources.
That total harvest means hunters and trappers killed 17% of the state's estimated total wolf population of 1,100.
Hunting ended Wednesday in all six zones but the total harvest could still rise as hunters and trappers have until 3 p.m. Thursday to register their kill.
Under a Feb. 11 state court order to hold the hunt this month, the state Department of Natural Resources received 27,151 applications for 2,380 available permits that were issued Monday. Successful applicants could begin hunting immediately on Monday, and the season ended in all six wolf zones by 3 p.m. Wednesday.
Previously:
The DNR harvest quota was 119 wolves killed statewide by Feb. 28, the last potential day of the hunt. But hunters and trappers were more successful than anticipated, leading to the early closure. The harvest exceeded the quota goal in all six zones and was more than double the quota in two zones.
Sarah Hoye, DNR communications director, said the increased rate of harvest observed this week compared to past wolf seasons was due to several factors, including:
The Natural Resources Board approved twice as many permits for this season as compared to previous seasons, and twice as many as DNR wildlife experts recommended for this week's hunt, putting double the number of hunters afield.
The use of dogs, which is an efficient method of harvest, was available for the full season as opposed to previous seasons where use of dogs wasn't open until later in the season and in some cases, zones were already closed.
Fresh snow across much of the state resulted in excellent tracking conditions likely leading to higher success rates among all methods of take.
The wolf population is larger than it was during previous seasons, and the quota for this season was on the low end compared to previous years, which should translate to increased opportunities and potentially shorter closure times.
The state originally proposed issuing 4,000 permits to harvest 200 wolves but tribal officials exercised treaty rights to claim their share of the total harvest. It was expected the tribes would not kill wolves because they oppose wolf hunting and trapping.
The DNR had planned to wait until November to hold a wolf hunt until the judge's order forced its hand.
Supporters of the immediate season, namely agriculture and hunting groups, said quick action was needed to cull the state's wolf population with wolves depredating livestock and lowering deer numbers in some areas.
Critics said the state acted too fast after the Jan. 4 expiration of federal Endangered Species Act protections, saying a winter season would upend wolf pack hierarchy and cause undue stress during the wolf mating season.
"The reckless slaughter of (182) wolves in just three days is appalling," said Collette Adkins, carnivore conservation director at the Center for Biological Diversity. "Sound science was ignored here in favor of catering to trophy hunters who were all too eager to kill wolves even at the height of breeding season. It will take years for Wisconsin's wolf population to recover from the damage done this week. And without federal protections, this bloody spectacle could easily play out in other states."
Wisconsin wolf harvest by zone as of 7 a.m. Thursday:
Zone 1 - Goal 31 - Harvest 37
Zone 2 - Goal 18 - Harvest 40
Zone 3 - Goal 20 - Harvest 30
Zone 4 - Goal 6 - Harvest 7
Zone 5 - Goal 27 - Harvest 28
Zone 6 - Goal 17 - Harvest 40
Total - Goal 119 - Harvest 182
This story was updated at 8 a.m. Feb. 25 to update wolf registrations from overnight. The story was originally published at 4:04 p.m. Feb. 24.