Duluth's Hawk Ridge eyes improvements at hilltop birding site
Project would add amphitheater, seating, picnic shelter and toilets to the birdwatching hotspot.
DULUTH — Hawk Ridge would be a more welcoming and easier place to visit and to watch birds under a major project in the works by the Hawk Ridge Bird Observatory, including permanent toilets, an amphitheater and a covered outdoor classroom/picnic shelter.
The proposed improvements also include expanded handicapped-accessible trails, children's learning areas, permanent seating for bird watchers along with improved parking and traffic safety at the site along Skyline Parkway in eastern Duluth.
Hawk Ridge is one of the best places in North America to watch the fall bird migration, especially hawks and other raptors, as they avoid flying over Lake Superior and skirt across Duluth. An average of 76,000 raptors fly over the ridge each autumn. But the site has offered very limited amenities to the thousands of bird watchers and school groups that come each year to watch hawks, eagles and other birds fly over.
"This is something that we've been discussing and planning, I think, ever since I came on board in 2007. We need better facilities, safer places for people to enjoy the beauty of Hawk Ridge," said Janelle Long, executive director of Hawk Ridge Bird observatory. "We've now brought those ideas to the concept and design phase and it's time to roll them out for the city, for the public, the community, to give us feedback on."
The observatory, not a brick-and-mortar facility, is the nonprofit group that has been given authority from the city to manage the 365-acre, city-owned nature reserve and to provide programming at the site. The birds draw more than 18,000 visitors each fall during peak migration and the breathtaking views of Lake Superior draw thousands more all year to sightsee from the scenic overlook.
The observatory's master plan proposal was presented Wednesday to the Duluth Parks Commission for their first look at the plans. Supporters hope the commission approves the plan at their April 13 meeting, sending it on to the City Council for final approval later in April or May, said Jessica Peterson, the city's manager of parks and recreation.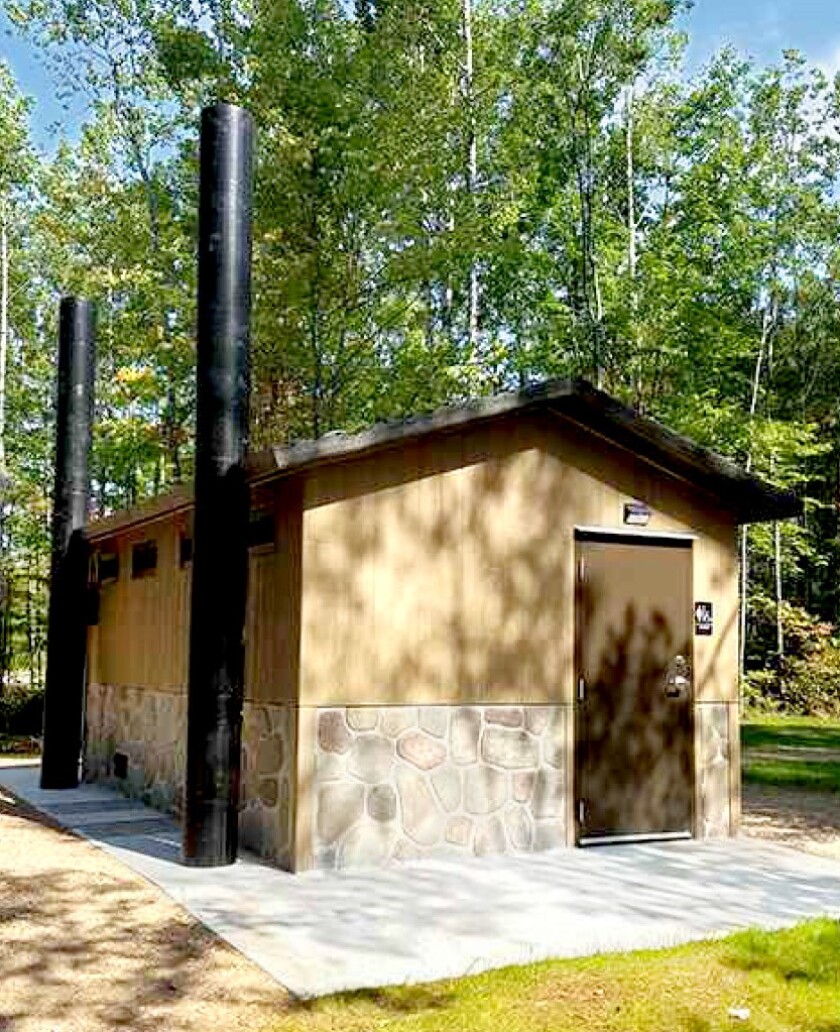 City staff, including a landscape architect and the trails coordinator, have been helping Hawk Ridge develop the plans for about one year, Peterson said.
City and public support may be the easy part. Observatory officials then need to go out and secure the financial support to start construction.
So far, Long said, there is no estimate on the final cost for all of the proposed improvements, but the observatory is making plans for a long-term campaign that would seek out individual donations, corporate donations, state and federal grants and support from foundations. It could take years to raise all the money needed and then build out all of the project elements in phases, Long noted.
The bird observatory was able to draw up the plans thanks to grants from Lloyd K. Johnson Foundation and Duluth Superior Area Community Foundation. City taxpayers will not be called on to help pay for the project.
Janelle Long directs this world-famous Duluth birding destination.
"Our staff will continue to be involved to help move this forward. But it's understood that Hawk Ridge Bird Observatory will take the lead on fundraising and on (funding) construction of the facilities," Peterson said, noting the project faces some steep topography and extensive bedrock that will make construction challenging.
The plan stops short of building any permanent buildings on Hawk Ridge.
"Our best educational opportunities come when our students and our visitors are outside watching the birds, watching nature, and that's not going to change," Long said.
Long and Peterson said that, so far, they've heard mostly positive comments about the master plan improvements, especially separating people from road traffic and making the area accessible to more people. And adding accessible, hard-surfaced trials will allow many more people to walk or wheel through the wooded reserve where rocky, steep and uneven trails now are located.
"We're very excited to support this process and provide the public platform for people to comment," Peterson said.
With fall visitorship nearly tripling in recent years, the observatory now has a seasonal staff of more than 20 people, including bird counters and bird banders, public outreach and education staff. The observatory's budget has topped $200,000 annually. About 80% of the visitors are from outside the area, making Hawk Ridge a prime tourist destination.
"But it's also a popular sport for residents to enjoy nature, to access Duluth's wooded areas, all year long," Peterson noted. "And what they have planned is only going to add to that enjoyment."
To see more about the Hawk Ridge plan now in front of the city Parks and Recreation Commission, and to make comments on the plan, go to the city's website at duluthmn.gov/parks/parks-planning/progress-in-the-park/hawk-ridge.
Hawk Ridge has been famous for hawks for a century, at first by people who went there to shoot them.
In 1972, the Duluth Audubon Society, through fundraising efforts and a loan from the Minnesota Chapter of the Nature Conservancy, donated funds to the city of Duluth to purchase 115 acres on the highest part of the ridge and designate it a nature reserve to protect the migrating birds. In 1973, another 250 acres were acquired from St. Louis County and conveyed to the city with conditions for the nature reserve.
Hawk Ridge Bird Observatory is a 501(c)(3) nonprofit charitable organization that was incorporated in 2004 as a successor to the Duluth Audubon Society that had overseen the site.
The city officially owns the land, while the observatory manages the 365-acre natural area high on the hill in eastern Duluth, called Hawk Ridge Nature Reserve, under a trust agreement with the city. It's a similar relationship the city has at Chester Bowl and Hartley Nature Area.
Each spring, Duluth is the bald eagle capital of the world
What goes south, for birds anyhow, must come back north. And the folks at Hawk Ridge have discovered in recent years that Duluth isn't just a great fall birding hotspot — it's also a great spot in spring.
Each spring, the bird counters of Hawk Ridge Bird Observatory pick up stakes and move west — to western Duluth, that is — for the best seat in North America to watch northward migrating bald eagles.
Bird counter extraordinaire Frank Nicoletti starts counting March 1 each spring and will be there through May, either near Enger Tower or the Thompson Hill rest area, depending on the winds that day. The public is invited to stop by and watch the eagles soar.
It turns out the eagles tend to fly over the city's western hillside on their way north more than over the eastern hillside, where Hawk Ridge is located and where they are seen on their way south.
The birds are seeking thermals — upward air currents — as they skirt around the western tip of Lake Superior on their way to their nesting sites in northern Minnesota and Canada. These birds have come from southern Minnesota along the Mississippi River, from southern Wisconsin and other points south, from where warmer winters offered open water and open fields to hunt on.
Thirty years ago, few people believed Nicoletti when he surmised that thousands of eagles were winging north over Duluth in spring. Now, in the years since he started an official count, he's averaged more than 26,000 raptors each spring.
In fact, during the spring migration, this is the best spot to see bald eagles anywhere in North America. On March 21, 2019, the expert counters here tallied a record-breaking 1,076 bald eagles in one day, the most ever recorded in a single day anywhere in the world. During the entire spring 2019 migration season, roughly March and April for bald eagles, counters tallied 7,727 bald eagles flying over Duluth, also a record-breaking season. In all, more than 30,000 raptors were counted here in 2019.
For more information on the Hawk Ridge spring bird count, including live updates of the current migration tally, go to hawkridge.org/research/bird-monitoring .
John Myers reports on the outdoors, environment and natural resources for the Duluth News Tribune. He can be reached at jmyers@duluthnews.com .
Clinton Nienhaus and Kristina Dexter have seen tens of thousands of raptors fly over during five years on staff (Nienhaus) or as a volunteer (Dexter) at Duluth's Hawk Ridge. But what they experienced on Sunday was something the avid birders descr...
Hawk Ridge raptor counting moves west in spring to capture massive northward migration.