Bear, flooded out of culvert, gets DNR ride to new hibernation location
The big male was unable to get out of deep snow after its long winter nap was interrupted.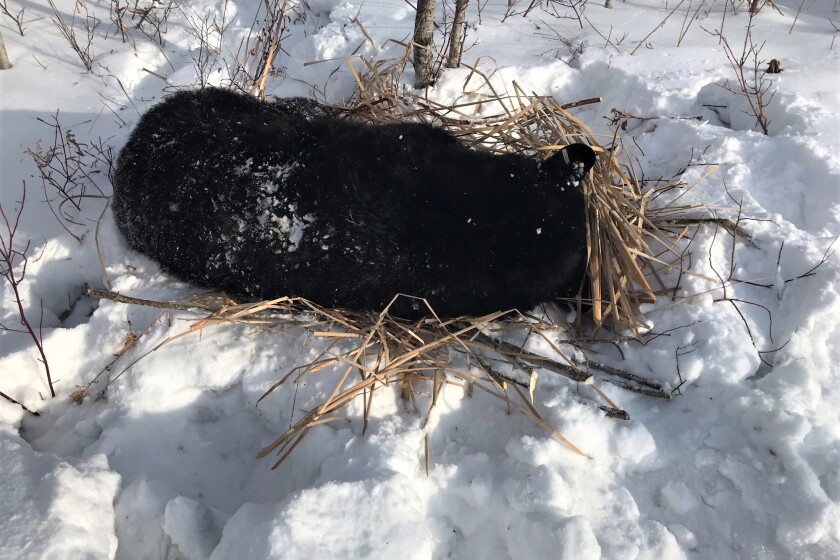 WANNASKA, Minn. — A bear that tried to spend the winter in a culvert outside of Wannaska in northwestern Minnesota's Roseau County had to be rescued Monday morning when the culvert filled with melting snow and the bear couldn't get out of a deep snow drift.
The big bruin apparently had been hibernating in the culvert under a road, not uncommon for bears. But the bear wasn't able to free itself from deep snow and needed a little help from the Minnesota Department of Natural Resources.
Andrew Tri, DNR bear biologist, said he got the call from local DNR wildlife officials Sunday who responded to reports from the public that the bear appeared in distress.
"Every year about this time we get calls of people seeing wet bears along a road. ... It's because they hibernate in culverts and then, when things melt a little like they did over the weekend, they need to get out," Tri told the News Tribune. "This guy tried to go down and out the other side of the culvert, but where he tried to come up in a low spot, the snow was so deep there from the snow plows, he couldn't get out. He was stuck like Winnie the Pooh in the honey jar."
Tri anesthetized the bear and then it took five people — including Tri, conservation officers and a deputy sheriff — to pull him out and get him loaded in the truck using a sling device designed to rescue people injured in remote areas. The bear was taken to a wildlife refuge near the Thief Lake Wildlife Area, Tri said, where it'll be safe for the rest of winter.
Tri examined the bear and pronounced it healthy. He estimates the bear was about 6 years old and weighed nearly 400 pounds.
DNR wildlife experts are asking the public not to bother any hibernating bears they come across in winter, either on your own property or in the wild. In this case some well-meaning folks tried to dig out the bear. They also served it up a smorgasbord of six Pop Tarts, a head of lettuce, a dead sucker minnow, some Fancy Feast cat food, bird seed and a Swedish Fish. That was probably well-intentioned, the DNR noted, but not exactly healthy food for wild bears. The bear didn't eat any of the food it was offered.
Anyone who thinks a bear may be in trouble can call a DNR wildlife office or state conservation officer.