Superior vehicle pursuit ends in Hermantown crash
An attempt to arrest a man suspected in a Superior assault resulted in a pursuit and vehicle crash in Hermantown.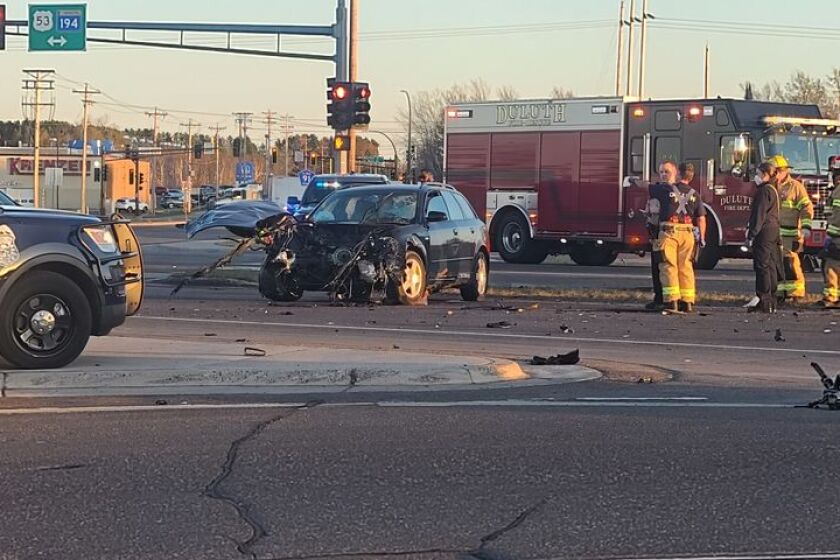 We are part of The Trust Project.
A 25-year-old Duluth man suspected in an assault fled Superior police over the Blatnik Bridge to the area around the Miller Hill Mall before crashing into another vehicle at the intersection of Haines Road and U.S. Highway 53 on Tuesday afternoon.
The man was a suspect in an assault that sent another man to the hospital earlier Tuesday in Superior. The suspect was known as a repeat felon, according to a news release from Superior police, and had pending charges in Douglas County for the reckless use of a firearm. The News Tribune generally does not name suspects until they have been formally charged with a crime.
When officers attempted to stop the suspect about 7 p.m. Tuesday, he fled in a vehicle over the Blatnik Bridge to Duluth, to the area around the Miller Hill Mall, police said. Other agencies became involved in the pursuit and witnessed the suspect 's vehicle, a Dodge Charger, crash into an Audi A4 at the intersection of Haines Road and Highway 53.
Police said he fled from the scene on foot and was later found by the Hermantown Police Department.
While in pursuit, officers believed the suspect had an unwilling occupant in the car. According to the news release, the woman in the suspect's car confirmed she was "not a voluntary occupant and asked the driver several times to stop and let her out."
According to Lt. Gordon Shank of the Minnesota State Patrol, the driver of the Audi was transported to Essentia Health-St. Mary's Medical Center with significant injuries. Their current condition was unknown Wednesday afternoon. The suspect and the passenger of his vehicle were also transported to Essentia Health with what police described as non-life-threatening injuries.
The suspect has been booked at the St. Louis County Jail under suspicion of criminal vehicular operation, and charges will be referred to the Douglas County District Attorney for false imprisonment, felony fleeing and other charges from the earlier assault.