SMS students turn Veterans Day lesson into gift
The Douglas County Veterans Service Office will have an extra $327 to help veterans with this winter, thanks to sixth-graders at Superior Middle School.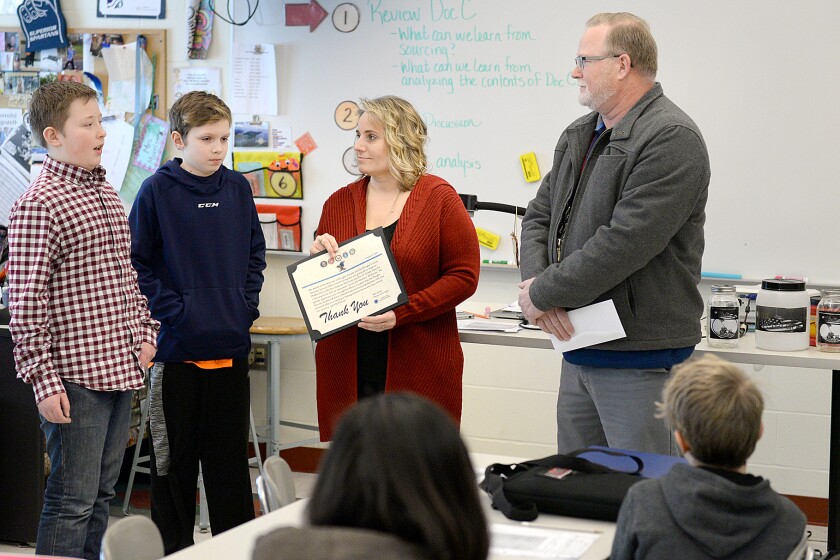 The Douglas County Veterans Service Office will have an extra $327 to help veterans with this winter, thanks to sixth-graders at Superior Middle School.
Students in Heather Morrissey's Red Wing social studies classes raised the money through their Coins for Veterans campaign. They handed the $327 to Douglas County Veterans Service Officer Brian Erickson on Thursday, Dec. 13. It will be used to lend a helping hand to veterans - rent assistance, gas cards, food cards, temporary lodging, utility assistance and more - through Douglas County's Soldiers and Sailors Relief Fund.
"We just wanted to give back to veterans in our community who are kind of down on their luck," sixth-grader Jack Milliken said. "We figured this would be a good way to do it because, well, they serve a good portion of their life and I think we need to give back to them."
"Thank you for everything that you do," his classmate, Marcus Madsen, said.
A lesson about Veterans Day prompted the fundraiser. When the sixth-graders learned about the Medal of Honor, the nation's highest military honor, it sparked a discussion about other ways to honor veterans.
"They wanted to give back," Morrissey said. "We talked about brainstorming and how can we give back and how do things happen currently, but it was their idea."
The sixth-graders offered a flood of suggestions, from spending the day with them and hanging banners and signs around the school to writing thank you letters and cards, putting flags on veterans' graves and holding a parade.
"We had a lot of ideas like fly the flag at half-staff or free gas for veterans on Veterans Day or doing the thing at restaurants where they give discounts, but we thought this was the best way that we could do this now and get it out there," Jack said.
Within a week, they were making posters and setting collection jars in each sixth-grade classroom schoolwide. They initially planned to collect money for a week, but added two days to the effort to hit the $300 mark.
"And we're very glad that we did," Jack said. "We're very glad we got to the amount of money we did, to give a little thanks to the veterans who served their country."
The Soldiers and Sailors Fund is supported by local donations as well as $1,000 in tax money. This year, Erickson said, it has provided about $7,000 in assistance to local veterans. While the fund relies heavily on donations, he said, the student fundraiser was a first.
"This really brought back memories of children and how meaningful it is to veterans when we get things such as this from children," Erickson said. "I remember when I was in the Marine Corps and I was in Okinawa at Christmastime. It gets lonely away from home. I hadn't seen my children for almost a year. We got Christmas cards and stuff, letters from children that were passed out to us and we got to respond back. So this just kind of reminds me of something like that."
Nadia Bjerketvedt said she'd like to see the school hold a fundraiser for veterans every year.
"It's for a good cause," the sixth-grader said.
It's also one that touches many of the students. More than half the class raised their hands when asked if they had a veteran in their family. Other students said they understood how difficult it can be when money is tight.
"I think that a lot of people underestimate how much kids impact the world," Arianna Robillard said. "People think that just because we're kids ... we don't have ideas."
You just need to put your mind to it, she said.
"I think that we went above and beyond what we expected," Arianna said.
1
/
6:
Brian Erickson, Douglas County veterans service officer, right, thanks sixth-grade social studies teacher Heather Morrissey as Jack Milliken, left, and Marcus Madsen look on during a check presentation at Superior Middle School on Thursday Dec. 13. (Jed Carlson / jcarlson@superiortelegram.com)
3
/
6:
Heather Morrissey's red wing sixth grade students hold up some of the signs they made for their Coins for Veterans fundraiser at the school. (Submitted Photo)
4
/
6:
Heather Morrissey's red wing sixth grade students hold up some of the signs they made for their Coins for Veterans fundraiser at the school. (Submitted Photo)
5
/
6:
Heather Morrissey's red wing sixth grade students hold up some of the signs they made for their Coins for Veterans fundraiser at the school. (Submitted Photo)
6
/
6:
Heather Morrissey's red wing sixth grade students hold up some of the signs they made for their Coins for Veterans fundraiser at the school. (Submitted Photo)