Police apprehend man after standoff in West Duluth
The suspect was allegedly involved in several crimes Friday in both Duluth and Superior.
A man barricaded inside a West Duluth apartment building, firing shots at police, was apprehended Friday night, ending a more-than-six-hour standoff.
"We used non-lethal tactics to bring him in peacefully with no injuries to him or our officers," Duluth police spokesperson Mattie Hjelseth said.
The standoff was preceded by a series of suspected crimes allegedly perpetrated by the 30-year-old suspect, including an attempted armed bank robbery, car theft and police chase. There were no reported injuries, Hjelseth said.
At one point the man was witnessed driving the wrong way on the Bong Bridge between Superior and Duluth.
Citing an ongoing investigation, Duluth police declined to address further details, saying they were still piecing together a day of mayhem that started at 12:30 p.m. Friday, and ended several hours later with the emergence of the suspect in custody a half-hour after a percussive bang could be heard.
Tactical teams from Duluth and Superior were on scene, and authorities negotiated over a cellphone with the man for several hours, intermittently sending smoke inside the apartment.
"While inside his apartment, the male fired multiple shots," a Duluth police news release said. "Our officers did not return fire."
Friends of the man, and residents evacuated from the apartment at 601 N. Central Ave., congregated in the Holiday fuel station parking lot, kitty-corner from the standoff. Traffic at Grand and Central avenues, one of Duluth's busiest intersections, was shut down for several hours.
"He told me he's not going back to prison," said Jeremy Mitzner, 35, earlier in the day. "I don't want them to shoot him."
Mitzner described himself as a friend of the suspect. It was Mitzner's apartment where the suspect barricaded himself after he eluded police. Mitzner wasn't home at the time, and was contacted by police at his place of work in a local kitchen. Mitzner guessed the suspect used his apartment because it was familiar to him.
The suspect was cleared at a local hospital and taken to St. Louis County jail.
Laura MacArthur Elementary School, up the block from the standoff, went into lockdown before it was scheduled to let students out for the day at 2:15 p.m.
Staff were later seen escorting some kids out to their parents' cars around with police present.
Duluth Police Chief Mike Tusken spoke early in the standoff.
"Right now our primary goal is to try to lock down, obviously, the busy neighborhood here," Tusken said. "We're trying to keep people away from the area. We're trying to use distance to keep safe while we're getting our tactical teams and officers in place so we can secure him in one location so he's not mobile again, and ultimately work on a peaceful settlement."
At one point, Duluth police suspended their vehicle pursuit of the suspect, "because it was too unsafe to continue," Tusken said.
The News Tribune does not generally name suspects until they are charged with a crime. The man in custody has been to prison, and has eight felony convictions, ranging from domestic abuse, firearms offenses and arson, according to state court records.
Following the pursuit, authorities located the suspect in Lincoln Park and pursued him to the apartment building at which the standoff took place.
Police were seen escorting people out of that building around 3:40 p.m.
An unidentified tow-truck driver for USA Towing and Recovery in Duluth said the towing service had dealt with a couple of vehicles the suspect had crashed into Friday.
Another person who identified himself as a friend of the suspect said: "He's been talking about dying from cops for two weeks now."
The St. Louis County Sheriff's Office, Minnesota State Patrol and Hermantown Police Department also responded to the scene.
The Duluth police also used their CORE Unit at the scene, Hjelseth said. It's designed to address mental health emergencies, and includes social workers and a registered nurse.
"Our CORE unit was on scene talking to him throughout the incident," Hjelseth said.
Mike Yeaton, 50, is a store manager who works near the incident.
"There's a lot of mental illness you see," he said. "There's a lot of people that are struggling. I've been working (here) for 25 years and it's getting worse."
Cody Miller, 21, a mechanic who works along Grand Avenue, said he saw the pursuit that led up to the standoff.
"He was flying by, going a good 100 mph," Miller said. "Two cops were following him, a DPD squad and a Sheriff's Charger."
This story was updated at 9:45 p.m. with additional quotes and details, at 8:52 p.m. with additional details from the Duluth Police Department, at 8:45 p.m. to report the suspect's apprehension, and at 6:31 p.m. to report the use of non-lethal munitions in the standoff. It was originally posted at 4:12 p.m.
1
/
11:
Authorities search a man involved in a six hour standoff in West Duluth on Friday evening, Oct. 1, 2021. Jed Carlson / Superior Telegram
2
/
11:
Authorities bring out a man involved in a six hour standoff in West Duluth on Friday evening, Oct. 1, 2021. Jed Carlson / Superior Telegram
3
/
11:
Special force officers have guns drawn outside of an apartment building during an over six hour standoff in West Duluth on Friday evening, Oct. 1, 2021. Jed Carlson / Superior Telegram
4
/
11:
Smoke floats over the Superior armored rescue vehicle after non-lethal munitions were fired into an apartment during an over six hour standoff in West Duluth on Friday evening, Oct. 1, 2021. Jed Carlson / Superior Telegram
5
/
11:
Duluth Police Chief Mike Tusken talks to the media during an over six hour standoff in West Duluth on Friday evening, Oct. 1, 2021. Jed Carlson / Superior Telegram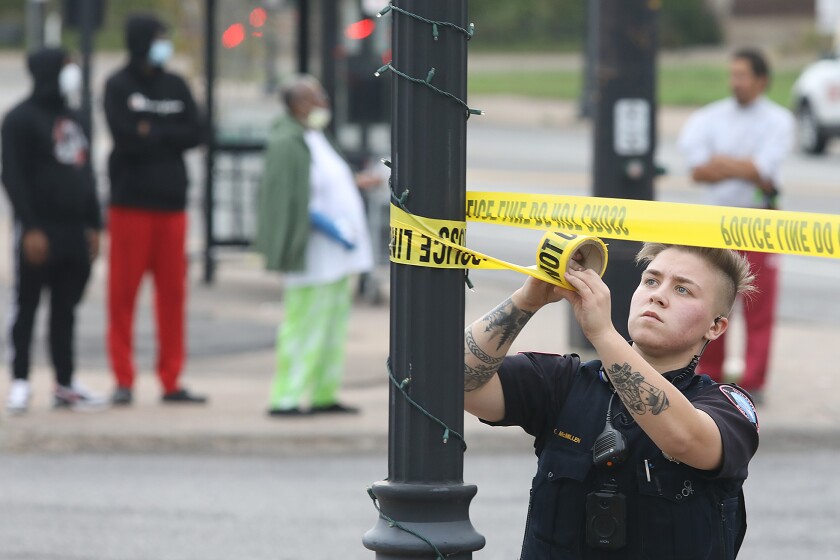 6
/
11:
Duluth police officer Kaylee McMillen makes a perimeter with police tape outside of an apartment building during an over six hour standoff in West Duluth on Friday evening, Oct. 1, 2021. Jed Carlson / Superior Telegram
7
/
11:
Officers take cover behind city trucks outside of an apartment building during an over six hour standoff in West Duluth on Friday evening, Oct. 1, 2021. Jed Carlson / Superior Telegram
8
/
11:
Residents of an apartment building are evacuated during a standoff in West Duluth on Friday, Oct. 1, 2021. Jed Carlson / Superior Telegram
9
/
11:
Police are pictured at the scene of an armed standoff in West Duluth on Friday, Oct. 1, 2021. Dan Williamson / Duluth News Tribune
10
/
11:
The Duluth Police Department responds to a standoff at the corner of Central Avenue and Cody Street in Duluth around 3 p.m. Friday, Oct. 1. Law enforcement is encouraging the public to stay away from the area. Barrett Chase / Duluth News Tribune
11
/
11:
Duluth police respond to a standoff on the corner of Central Avenue and Cody Street on Oct. 1, 2021. Barrett Chase / Duluth News Tribune