Officer who shot Jacob Blake was 7-year Kenosha police veteran
Attorney General releases new details about Blake's death, officials arrest 17-year-old accused of shooting protesters
One of the officers involved in the stop that ended with police shooting 29-year-old Jacob Blake in Kenosha attempted to use a Taser to stop him from walking away, but it was unsuccessful, the Wisconsin Department of Justice said in a new statement Wednesday, Aug. 26. Blake, a Black man, was not armed when he was shot.
The officer who on Sunday shot Blake in the back seven times was Officer Rusten Sheskey, a 7-year veteran of the Kenosha Police Department, said Wisconsin Attorney General Josh Kaul in the statement and at a press conference in Kenosha. Video of the incident circulated widely on social media and set off massive protests as well as vandalism and arson.
Overnight on Tuesday, authorities say 17-year-old Kyle Rittenhouse, of Antioch, Illinois , shot three protesters, killing two of them. Illinois authorities arrested Rittenhouse Wednesday on first-degree homicide charges. Authorities have not released the names of the victims, but said the two men killed were a 26-year-old Silver Lake resident and 36-year-old Kenosha resident. A 26-year-old male from West Allis was also shot in the arm and is expected to recover.
Protesters gathered in Kenosha for a fourth night to decry Blake's shooting, hours after Gov. Tony Evers announced an increased National Guard presence in the city. The increase to 500 troops in Kenosha comes after two protesters died in a shooting the night before.
Kaul said after the events of the last several days, community members "deserve to have the opportunity to grieve. They deserve to have the opportunity to come together, to protest peacefully, to call for the change that they would like to see and ultimately to work to heal this community."
Kaul released other details from the investigation into the police shooting in his 6 p.m. press conference:
Police were called to a residence in the 2800 block of 40th St. by a woman who said her boyfriend was not supposed to be there. Officers then attempted to arrest Blake.
Before the shooting, Blake told officers he had a knife in his possession. Agents later recovered the knife from the driver's side floorboard of his vehicle. There were no other weapons in the car.
The state Division of Criminal Investigations is leading the investigation, assisted by the FBI and other agencies. They aim to provide a report of the incident to a prosecutor within 30 days.
Officers including Sheskey are on administrative leave, Kaul said.
Earlier on Wednesday, law enforcement agencies announced at a joint press conference that the curfew for the city had been pushed up to 7 p.m., and that officers would arrest anyone in violation.
At Kaul's press conference, Kenosha Urban League president James Hall urged protesters to respect the curfew, "so that no one else gets hurt."
"Right now, Kenosha is emotional," Hall said. "Right now, the country is emotional. We cannot continue to meet force with force. ... Change is now. If Kenosha can make this change, the entire country will follow."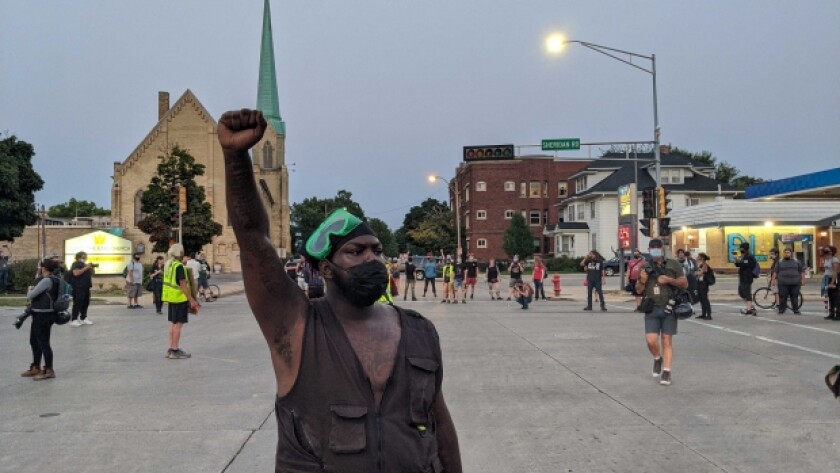 Around 9 p.m., some protesters in Kenosha had been marching and chanting, defying the curfew, but WPR reporters there said there were few signs of police presence on the streets, and no signs of violence.
Sam Vong and his family have owned Madame Pho on Highway 50 and I-94 for seven years. On Wednesday they boarded up their windows before the city's 7 p.m. curfew.
"For the first time ever you feel like you live in fear in your own place," Vong said. "I don't know when it's going to end. And I hope that it will end soon. We're just waiting for someone to actually do something to actually help us as a small business."
Vong said he doesn't know exactly what happened between Blake and police, but he just wants to protect his family, employees and their customers.
"I wasn't there, so I'm not sure what happened, but I feel like they were doing what they were trained to do," Vong said. "Not all the people are bad and not all the people are good. It's sad."
Blake's family and attorney said on Tuesday that the shooting has left Blake paralyzed from the waist down .
The response locally was swift, with protesters marching to the city's downtown to decry the shooting that evening. The city has now had three straight nights of destruction and unrest, with police and National Guard troops repeatedly using pepper spray and tear gas on the crowds, and with dozens of vehicles and buildings vandalized or set ablaze.
The incident has led to widespread outcry beyond Kenosha as well, with demonstrations breaking out around the state and the nation. Protests have happened for three straight evenings in downtown Madison over the shooting, with another planned for Wednesday evening.
On Wednesday, the NBA called off playoff games after the Milwaukee Bucks refused to take the court. Players had previously told reporters that teams were considering sitting out in protest. The Milwaukee Brewers also decided not to play the Cincinnati Reds at Miller Park on Wednesday.
Editor's Note: Erik Lorenzsonn, Rob Mentzer, Madeline Fox and Corri Hess contributed reporting.
Wisconsin Public Radio can be heard locally on 91.3 KUWS-FM and at wpr.org.
Wisconsin Public Radio, Copyright 2020, Board of Regents of the University of Wisconsin System and Wisconsin Educational Communications Board.