Twin Ports Thanksgiving Day Buffet returns to DECC
Ham is on the menu due to a national turkey shortage.
DULUTH — Community members are welcome to gather in person again for the 33rd annual Twin Ports Thanksgiving Day Buffet at the Duluth Entertainment Convention Center.
Those from the Twin Ports area (including Carlton, Cloquet and the North Shore) are invited to the Thanksgiving dinner from 11 a.m. to 3 p.m. in the Lake Superior Ballroom.
All meals are free — made possible by the College of St. Scholastica, donors and community supporters. Parking is also free.
Due to the national turkey shortage this year, a smoked ham dinner will be served instead, including homemade mashed potatoes and gravy, stuffing, vegetables, dinner roll and cake.
"We usually place an order for 2,000 pounds of turkey by late September, early October, because of the size of the event," said Monica Hendrickson, who has served as the event's organizer for the past nine years. "Due to the bird flu, we were not able to supply turkey in time. Every supplier had a limit of 12 turkeys per order. Ham was the most reasonably priced, which was one of the deciding factors. It all comes down to production time."
St. Scholastica ordered 2,000 pounds of ham through the wholesale restaurant food distributor Sysco. More than 800 volunteers help to facilitate the community meal, cooking up 2,000 pounds of potatoes, just under 1,000 pounds of gravy, 7,000 dinner rolls and 6,000 pieces of cake.
According to Hendrickson, the DECC is the only place large enough to hold the event in the Twin Ports area because of its capacity for refrigeration and cooking time. Its ovens can cook up to 30 turkeys (or in this case, hams) at a time.
Organizers are anticipating a turnout of up to 4,000 people for the first in-person Thanksgiving buffet since the start of the COVID-19 pandemic. Over the course of the event, between 800-900 people are gathered in the ballroom at a time, she said.
Due to COVID-19 precautions, the 32nd annual free meal will be prepared and delivered to homebound individuals and to satellite sites next week.
"We're really excited to be back in person. The event had been going on for 30-plus years. A lot of people are alone on Thanksgiving and are able to come be part of the community. We're looking forward to seeing some of the families and individuals who are regulars," said Hendrickson. "Inflation has absolutely changed everyone's grocery bill. I know there are many families who would not be able to have a large Thanksgiving meal if not for the free dinner."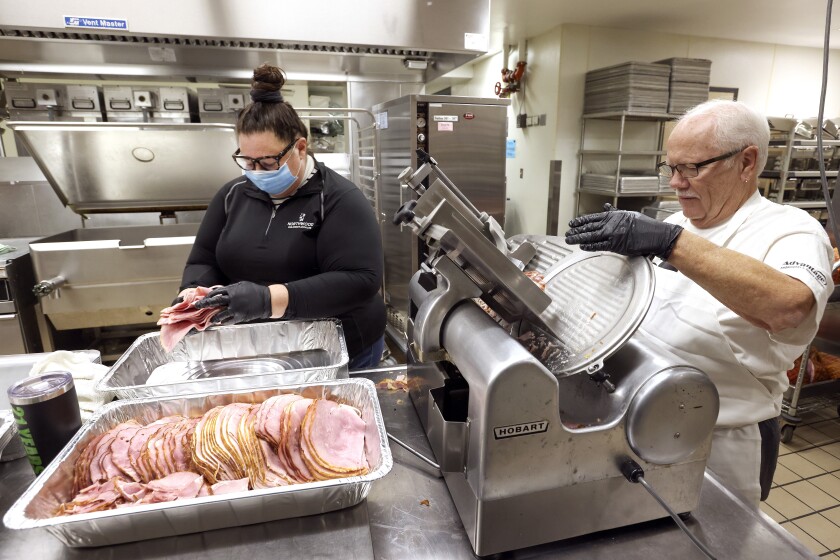 Last year, meals were available for pickup and delivery only due to COVID-19 precautions. Hundreds of volunteers prepared approximately 5,000 to-go meals, with about 1,600 of them delivered to homebound individuals and their caretakers Thanksgiving morning.
This year, approximately 1,300-1,400 meals will be delivered, an increase from pre-pandemic numbers, which typically ranged between 1,000 and 1,200 delivered meals, Hendrickson said.
"During the first year of COVID, the need was there. Last year, while delivering to homebound individuals, we were seeing more desperation," Hendrickson said. "The need is much higher than it ever has been. So many people are homebound or undergoing medical treatment and are unable to be in public due to COVID with compromised immune systems."
Visit css.edu or contact thanksgivingdaybuffet@gmail.com or 218-723-6484 for more information.
Remaining volunteer positions are listed on signup.com/client/invitation2/secure/1017003605161864021/false#/invitation , or call the volunteer line at 218-723-6222 with questions.