Superior leaders tout value of the creative economy
Following a tour of the Princess Theater, elected and business leaders spoke to state Sen. Romaine Quinn, R-Cameron, about the value of the arts.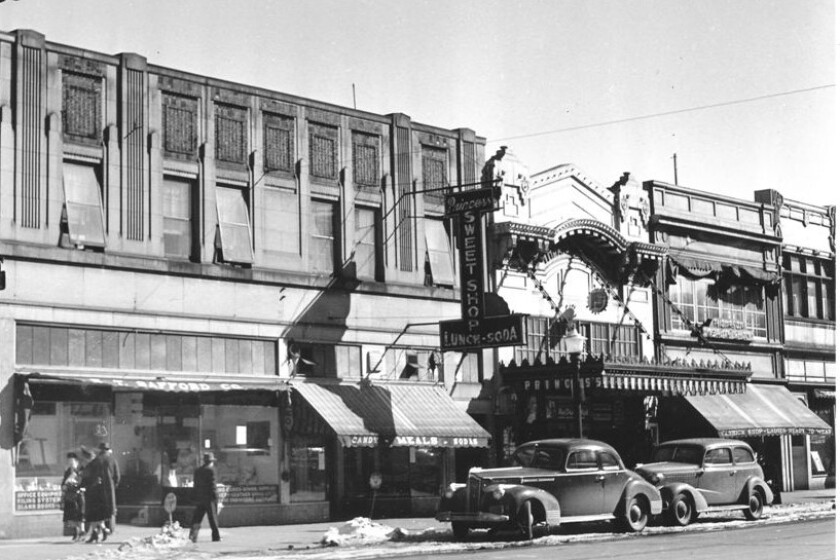 SUPERIOR — Local leaders took the opportunity Monday, March 13, to have a conversation with state Sen. Romaine Quinn, R-Cameron, about the value of the arts to the state's economy.
After all, Wisconsin ranks at the bottom in the nation when it comes to state funding for the arts, spending just $0.14 per capita for arts agencies in 2022, according to the National Assembly of State Arts Agencies. Minnesota, by comparison, spent $7.34 per capita for art agencies the same year, ranking third in the nation for per capita support for the arts.
"The creative sector in Wisconsin is a $9.6 billion industry with more than 83,000 jobs—more jobs than the state's beer, biotech and papermaking industries," said Anne Katz, director of Create Wisconsin.
Katz helped facilitate the discussion Monday, as local leaders explained the value of the arts in Superior after a tour of the Princess Theater.
Mayor Jim Paine said plans to renovate the historic theater are in feasibility and design currently.
"It's what I consider to be the final piece to developing Superior's downtown," Paine said of one of the last vaudeville, film and performance theaters built in the city.
Paine pointed out that rehabilitating the theater wasn't just about the arts and culture; it's also economic development that will help support surrounding businesses.
Kelly Peterson, director of the Superior Business Improvement District, said renovation of the theater will only expand the growth that has taken place downtown since the reconstruction of Tower Avenue was completed.
"It's only going to make things better," Peterson said. "If we can get more money up north here, we can do great things with it, and it will spur more growth."
Following a tour of the buildings that once housed a theater and frontier photographer Dave Barry's studio, the state senator joined local leaders for a roundtable discussion at Sterling Silver Studios, hosted by owner Carolyn Nelson-Kavajecz.
Nelson-Kavajecz said she started the business while in high school out of necessity. As a baton twirler, she said there was no program at the high school that would allow her to be a majorette so she formed her own club. She opened her first studio for dancers and twirlers downtown before moving to the Mariner Retail and Business Center. Sterling Silver has been serving the community for 32 years.
"We wanted to use this arts organization to teach kids about the importance of community development and getting involved in all of the different organizations and activities happening in the city of Superior," Nelson-Kavajecz said. About 50% of the lessons students learn is how to use their creative talents to make Superior a better community, she said.
Because of funding provided by the city and the Performing Arts Student Scholarship, Nelson-Kavajecz said those lessons aren't limited to students whose families can afford dance lessons.
JoAnn Jardine, owner of Studio One Photography, urged Quinn to consider the financial and workforce value of film credits on the economy of Northern Wisconsin.
The film industry is growing "leaps and bounds" in Minnesota because of their film rebates, Jardine said. Jardine, who initiated a film credit to provide rebates on food and lodging in Superior, explained how state, county and local credits can be used together in Minnesota to save filmmakers up to 75% of the cost of film production.
"It's my goal to get Superior people employed on a lot of those film sets," Jardine said, adding that her work wasn't eligible for Minnesota film incentives. "There's a lot of talented people. For instance, I do behind-the-scenes work. I do behind the scenes photography … my picture was the cover for (Merry Kiss Cam on) Hulu."
During 15 days of shooting in Duluth, Merry Kiss Cam generated 850-night stays in Duluth hotels and $100,000 for the hotel and lodging industry; $45,000 for catering and food; and $150,000 for rentals, some of which could have been spent in Superior if Wisconsin offered film credits, Jardine said.
Quinn said he didn't realize how important the creative economy was in Wisconsin until he heard Katz cite the figures on the economic impact and jobs generated in the creative sector.
"I enjoy trips like this because it opens my eyes," Quinn said. "I'm the first to say I'm not a typical millennial. I'm pretty boring. I wouldn't consider myself pretty much in the arts at all."
Quinn encouraged local leaders to ask for funding they need, whether for the arts or the Princess Theater project, especially now, with the state having a budget surplus. He said there are a lot of asks out there, including $290 million for the Brewers.
"In my mind, if we can invest $290 million into a stadium in Milwaukee, there should be money available for Northern Wisconsin and some of the stuff we care about," Quinn said. "So, we'll see what that looks like."