Fire destroys Superior's Wasabi restaurant
It opened in 2018 on Tower Avenue.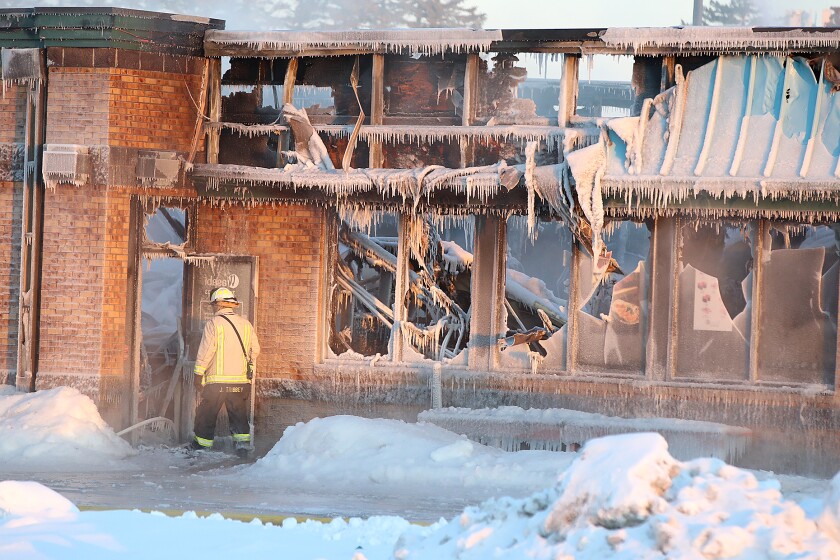 SUPERIOR — A fire destroyed Wasabi Japanese Restaurant, 3333 Tower Ave., early Monday morning.
The fire was reported at 12:27 a.m., according to a news release from the Superior Fire Department. Crews arrived two minutes later to find a working fire. It was extinguished at 7:30 a.m.
Battalion Chief Joe Tribbey confirmed the building is a total loss.
The wind chill of at least 20 degrees below zero created dangerous conditions as 12 on-duty firefighters, and later, also off-duty personnel, battled the fire. One firefighter reported a minor back injury due to a fall. There were no other injuries.
The Superior Police Department, Mayo Ambulance, City of Superior Public Works, Wisconsin State Patrol and Superior Water, Light and Power assisted at the scene.
The cause of the fire is under investigation, the news release said.
Wasabi opened in early 2018 in the former O'Neill's Pub & Liquor, which was known for its drive-thru window. It was a Wendy's restaurant prior to that. Wasabi opened a second location in late 2018 at 132 E. Superior St., downtown Duluth.
This story was updated at 10:15 a.m. Jan. 30 with additional information from the scene and photos. It was originally posted at 7:37 a.m. Jan. 30.
A sushi restaurant that opened in Superior earlier this year will debut its second local spot after Thanksgiving in downtown Duluth.