Northlandia: How a few feet of Wisconsin ended up on Minnesota side of St. Louis River
Differing definitions, a changing shoreline and a 1920 U.S. Supreme Court case all played a role.
DULUTH — The border between Duluth, Minnesota, and Superior, Wisconsin, is pretty easy to describe.
One is on this side of the St. Louis River; the other is on that side.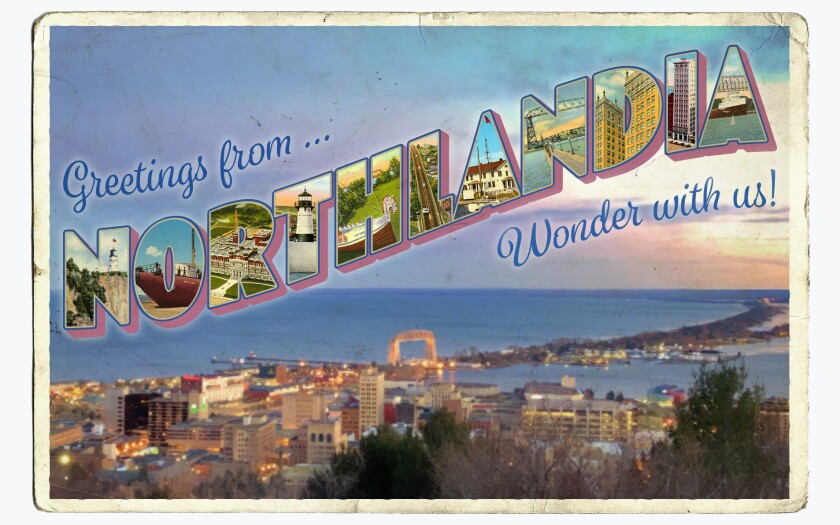 And in general, that's correct. But there are two tiny slices of Superior in what you'd expect to be mainland Duluth.
A 3.3-acre parcel at the tip of Spirit Lake Marina and RV Park in Duluth's Riverside neighborhood and about 4 acres at the end of Hallett Dock 6 in West Duluth, both along the St. Louis River, would appear to be in Duluth to most people. They're only accessible by land from Duluth, after all.
When Jeff Heller, president of Hallett Dock 6, an active rail facility, bought the property, he knew he'd pick up a piece of Wisconsin, but didn't know the exact details.
"Then we noticed we were being taxed," Heller said.
The tax bill listed a 4-acre parcel in Wisconsin. Today, annual taxes amount to $186, according to Douglas County land records.
Besides taxes, the Wisconsin property doesn't really affect the dock's operations, Heller said. Nothing is built on it and when he extended the railroad tracks, he purposely went up to, but did not cross, the state line.
He did joke about opening a bar on the Wisconsin land that boaters could drive up to in their pontoons.
The slivers of land at the end of Hallett Dock 6 and Spirit Lake Marina are officially in Superior, thanks to a state-line dispute case decided by a U.S. Supreme Court more than 100 years ago.
The 1920 decision set the boundary, and prompted a survey and mapping project of the border the following year.
In 2018, surveyor Tony Lueck, of Duluth Township, replicated that 1921 survey, inspired by an error he found while completing a survey of the ghost town of St. Louis near Oliver, Wisconsin.
"I ran the bearings and distance up the map, after triangulation, but it didn't close by 150 feet," Lueck said. "I thought, 'What the hell? How can we have a Supreme Court map and it doesn't close? These guys are better than that.'"
So he dug into the court-ordered 1921 border map and its coordinate table.
The border itself was drawn correctly on the map, but several points that surveyors could use to locate the border had been copied wrong. For example, a few numbers were switched around and the wrong direction was recorded, Lueck discovered after comparing the court's coordinates with the rural triangulation books found in archives.
"I thought my survey work was horses---, but it wasn't," he said. "There's an error on the stupid line table on the map."
His work in replicating the 1921 border survey meant fieldwork on and near the frozen St. Louis River as well as a considerable amount of time looking through microfilm of newspaper coverage of the Supreme Court case, county records and archived material kept at the Jim Dan Hill Library Special Collections at the University of Wisconsin-Superior.
"It's just a head-scratcher. There's no money in it, nothing like that. It's just interesting history, isn't it?" Lueck said. "It might save some errors from being made in the future."
And, in addition to uncovering errors, he learned more about the history of how parts of Wisconsin are in what we generally think of as Minnesota.
Wisconsin became a state in 1848 — a decade before Minnesota — and set the border as the deepest part of the river, sometimes referred to as the natural or main channel. But Minnesota argued the border fell about midway between the two shores of the river.
Over time, the banks of the St. Louis River changed. Sometimes the change came naturally, but most dramatically it was altered by humans. Entire islands were dredged out to make more room for shipping and fill was added to extend land, creating docks and more space for other waterfront industries.
The Minnesota-side shoreline began encroaching and then crossing the deepest part of the river (and what Wisconsin considered the state border).
It's just a head-scratcher. There's no money in it, nothing like that. It's just interesting history, isn't it? It might save some errors from being made in the future.
Tony Lueck, surveyor
At the end of Duluth's 59th Avenue West, Zenith Furnace Co. operated on what is now Hallett Dock 6. It had filled in and extended into the St. Louis River.
And the deepest part of the river also ran right along the shore of what is now Duluth's Riverside neighborhood, but it was covered by piers when the shipyard of McDougall Duluth Shipbuilding Co. in Riverside built ships for World War I. Those docks are now Spirit Lake Marina and RV Park.
The companies were being taxed by both states, prompting a lawsuit.
Witnesses in the yearslong border case included "lake captains, professors of history and geography and old Indian settlers," according to a March 9, 1920, Duluth News Tribune story announcing the Supreme Court's decision.
It was largely a fight over semantics, Lueck said.
"Minnesota's premise was that the waters were like a lake — the waters of Lake Superior all the way up at least to Big Island if not up to Fond Du Lac — and Wisconsin was saying 'No, it's always been the river. The mouth has always been between Minnesota (Point) and Wisconsin Point,'" he said.
With the border settled, the properties that straddle the border are no longer double taxed. Terry Johnson, Superior's city assessor and the former assistant county assessor for St. Louis County, is familiar with the properties from both sides of the border.
"They'll be treated just as similar as any other properties … there isn't any kind of special arrangement," Johnson said.
"I honestly never even thought of it when I was assessing what was over there in Duluth," Johnson said of his role at St. Louis County. "I just looked at 'OK, this is what's in Minnesota, value that portion of land, let Superior worry about what's over there.'"
Charlie Stauduhar, owner of Spirit Lake Marina and RV Park, said paying taxes to Superior every year isn't a big deal.
Property taxes on the Wisconsin portion amount to just over $1,000, according to Douglas County records.
He does see the differences play out in environmental regulations.
Most notably, last fall, when Minnesota and Wisconsin were looking to capture and euthanize geese along the St. Louis River in an effort to bring back healthy stands of wild rice. Minnesota officials weren't quite ready, but Wisconsin was, Stauduhar said.
"So the Wisconsin guys said, 'Can we use your property? And we'll chase them down onto your property and we'll corral them up on the Wisconsin part,'" Stauduhar said.
In an email, Dave Grandmaison, St. Louis River wild rice and habitat coordinator for the Wisconsin Department of Natural Resources, said that while there is no active management on the Wisconsin parcels, "I can confirm that WDNR utilized Wisconsin property and waters for our goose roundup in 2022 to protect wild rice, including the Wisconsin property at the end of the Spirit Lake Marina slip."
For the most part, the marina's border is just an oddity. "It's something to make light of," Stauduhar said. "A short-term customer coming in with their camper or something, we'll say, 'Hey, we're going to put you down in Wisconsin.'"
Omaha-based Hansen-Mueller Co. purchased the former General Mills grain elevator a year ago.