Douglas County Past: Fishermen flock to Brule River; Somerville four win Twin Ports title
From the April 1, 1968 Telegram: "The little town of Brule literally 'came to life' and was bulging at the seams with what was described as a 'record number' of down-staters and non-residents to try the famous Brule."
March 31, 1933
Jail to house prisoners
Sheriff Frank Carlson advised Friday that he has signed a contract with the federal government to house prisoners at the Douglas county jail at the rate of 55 cents per prisoner per day.
The signing of the contract followed by a month of government inspection of the jail by Inspector J.H. Strief, of the department of justice.
The government placed a ban on the county jail following the double escape of Clarence W. (Red) Haggerty, alleged narcotic peddler.
Efforts of the sheriff and the Association of Commerce brought the inspection and the return to good favor in governmental eyes of the local jail.
April 1, 1933
Pleasure ride on Brule at night is dangerous!
A sight-seeing trip on the Brule river at night almost ended disastrously for two Superiorites Friday night when they ran into the arms of the law.
Warden James W. McNaughton paid a visit to Big lake about 8 p.m. and encountered an automobile parked near one of the cottages on the shore of the lake. Out in the stream was a boat, with a light shining in it. From the boat came sounds of spears as they struck rocks on the bottom.
The warden waited. Finally the pair came ashore and were halted. They had no fish, were dressed in low oxfords and "best clothes" and told the warden they had come down to the river to see the rainbows spawn.
They said they had discovered the boat on shore and had appropriated it for their use, using two fish spears found in it to propel it. McNaughton took their names and Saturday morning, after a conference with District Attorney Claude Cooper, the two were released.
"Their wives were in the car on the bank waiting for them," explained the warden. "It was obvious they had taken no fish."
Nightly vigil is being kept on the Brule by special wardens and individuals. Within the past week four have been convicted and sentenced for spearing and dynamiting violations.
April 1, 1968
Special trout opener "slow"
The 1968 special trout season on South Shore streams Saturday brought out a near-record number of anglers. On upper Wisconsin's Brule River trout were uncooperative, however, and a minimum of fish were taken the past weekend.
Brule River anglers greeted by deep snow, clear water and a few nice trout
The little town of Brule literally "came to life" and was bulging at the seams with what was described as a "record number" of down-staters and non-residents to try the famous Brule. Trailers and tents were in evidence all along highway "H" to Lake Superior.
Early Saturday morning, fishermen were almost "elbow to elbow" in some of the choice "holes." There were scattered reports of a "few" taken on various spots, but most diehards agreed that in general it was a "poor" opener.
Among the fortunate anglers, Tom Johnson, Lake Nebagamon, took one rainbow Saturday morning on the Brule. Bill Arnold, Lake Nebagamon, took two rainbows Saturday, while Dick Murray, Superior, had a big weekend taking two rainbows Saturday and one 24-inch rainbow Sunday.
Twin Ports title won by Somerville
The Bud Somerville four of Superior won the Marsh McLennan event, symbolic of the Twin Ports Curling Championship, as the result of winning the local playdown recently at the Superior CurlingClub.
In the semi-finals, the Somerville rink downed the Don Greely four before besting the Rollie Larson rink in the finals.
The Marsh-McLennan event is the oldest curling bonspiel in the area. It was started in the 1890s.
Curling with skip Somerville were Jack Horst, third; Bill Venne, second; and Bill Master, lead. Curling with skip Larson were Bill Carlson, third; Ray Edgette, second and Tom Noole, lead.
April 3, 1933
Former policeman asserts his life was threatened
The lives of Henry Pounder, ex-Superior policeman, and two others were threatened by an unknown person late Saturday afternoon, Pounder reported to Louis Anderson, Douglas County jailer shortly after the incident. He gave a description of the man but after a thorough search of cottages nearby Saturday night Deputy P.H. McDermott could not find him, it was learned at the sheriff's office Monday.
Pounder and two men, the names of whom were not given, were building a cabin on Pounder's land on the Bear Lake road between Bear Lake and Lake Amnicon about 5 o'clock Saturday afternoon when a man appeared with a rifle and threatened to kill them, Pounder reported.
Superior news in brief
To Chicago – Miss Nona Dow, manager of the Powder Puff beauty parlor, has left for Chicago, accompanied by Miss Nona Knutson. They will attend the National Hair Dressers' convention.
Report thefts – The following minor thefts were reported to police since Saturday: Lyle Webster, 1225 John avenue, a spare disc wheel from his car; Edwin Goebel, 1815 Baxter, a bicycle; Frank Vittulla, 2313 Twenty-first street, four chickens; R. O'Haron, 6014 Oakes avenue, 10 chickens.
April 3, 1968
Many changes in council and CB
The City Council and County Board races included several surprises Tuesday and as a result, at least 10 new members will be seated on the two bodies.
The new City Council members are William Nordquist, 1107 Grand Ave., 7th Ward; Clyde Knapp, 1610 Hammond Ave., 11th Ward, and Carl Dahlin, 905 N. 22nd St., 15th Ward. Ray Sharp, 2022 Butler Ave., the write-in in the 13th Ward, said today that he would not accept the position.
The new county supervisors are Fred J. Johnson, 2nd District; Sam Goldberg, 6th District; Thomas Murray, 10th District; Lewis Martin, 11th District; Fred C. Marty, 12th District; John Pellman, 23rd District, and Paul Brown, 24th District.
Incumbent 11th District Supervisor Harold Andresen lost his bid for re-election to Lewis Martin, who took a 342-276 victory. Martin, public relations director for a local television station, is a newcomer to the Douglas County political scene. Andresen, a sales representative for marine fire protection equipment, had served three terms on the board up until his defeat Tuesday.
John Pellman gained the 23rd district seat as he dumped incumbent Harold Pearson by a 269-236 final score. Pellman, 73-year-old farmer from Maple, served on the board from 1961-1966. Pearson, also a resident of Maple, was dumped after 17 years on the board.
In the 24th District, Paul Brown, a Maple dairy farmer who has not sought public office in the past, downed incumbent Eugene Nevin. Nevin, a Poplar businessman, was nominated to the board in 1967. He lost his post to Brown by a 213-180 vote.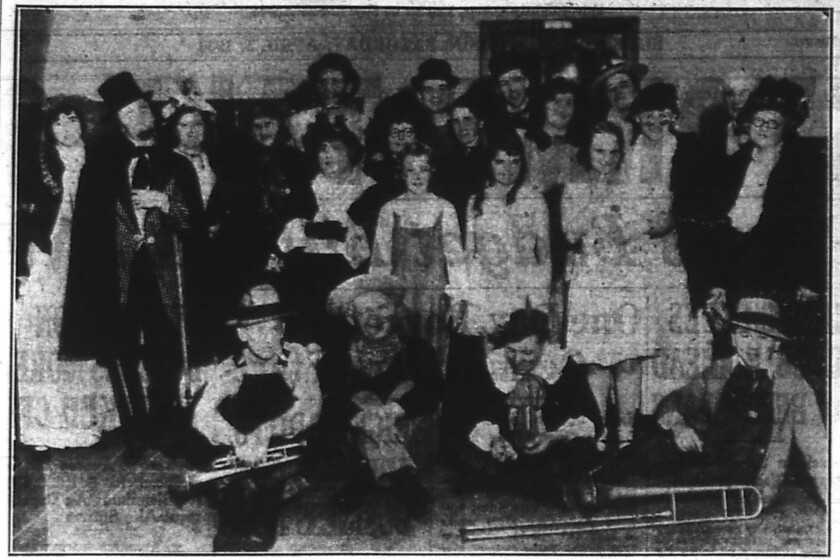 Articles and pictures courtesy of retired librarian Judy Aunet with Superior Public Library.