Douglas County Past: Dead coucilman's name to appear on ballot; Family gathers to celebrate Borea couple
From the March 12, 1913 Telegram: "Last Saturday Mr. and Mrs. Gust. C. Warner of Borea, this county, were greatly surprised when nine of their 10 children gathered unknown to the old folks for a family reunion and celebration of their 45th wedding anniversary at the home of Mr. and Mrs. Warner."
March 10, 1913
Injuries will not be fatal
Despite the injuries sustained by him, Charles Wass, proprietor of a shoe repair shop on Broadway, who was found lying on the ice under the Interstate bridge on Friday morning, will recover.
Wass sustained fractures of both legs, one arm, a thigh, his shoulder, and received bad cuts on the head in his fall from the bridge. When the accident occurred is not known but Wass was discovered about 7 o'clock in the morning.
City news
Two given hearings — Nels Erickson and Charles Freeman, the pair who are charged with holding up Ben Luck at Grand avenue and North Third street in broad daylight at noon Saturday are having their preliminary examination in the municipal court this afternoon.
Stovepipe to blame — A defective stovepipe caused a fire at a residence, 3506 Twenty-first street at 2 o'clock today, resulting in $250 damage to the building and $75 to the furniture. The house is owned by Chas. Kopp and occupied by Dan Lannehan.
Marriage licenses — Marriage licenses were issued this morning at the office of the county clerk to Jacob Maki and Amelia Hankanen of Duluth and Waina Haryu and Eli Abeth Tillenson of Maple.
March 10, 1933
Superior news in brief
Nelson to speak — State Senator Phillip E. Nelson, Maple, will speak over WEBC Monday night at 6 o'clock on "The Equalization Bill," now pending before the state legislature, it was announced Friday by W.R. Davies, superintendent of city schools.
March 11, 1913
County board men view rock crusher
Twenty members of the Douglas county board this morning journeyed to the Superior Crushed Rock company's plant at Rockmont, to look over the equipment with a view to having first hand information as to the advisability of trading the new workhouse site for the rock crushing property. Following dinner at the rock crusher headquarters the board members returned to the city.
City news
Two were abusive — Frank St. John used abusive language, and George Melhick abused his parents, so Judge Parker sentenced both to pay fines of $23 and costs, or go to the county workhouse for 30 days. Four other drunks whose offense consisted of acquiring jags were fined $5 and costs or 10 days.
March 11, 1933
Cigarets valued at $350 stolen at O'Brien home
Thieves, sometime before 9:30 p.m. Friday evening entered the home of F.J. and George O'Brien, 1402 Cypress avenue, and stole 11 cases of cigarets, valued at approximately $350.
Entrance to the residence was gained through a basement window. The cases were carried out through the back door of the house.
Illness fatal to councilman
John P. Mahan, 63, councilman for the Second ward, died Saturday morning at five minutes to 10. He died at St. Francis hospital where he had undergone a major operation Monday.
Councilman Mahan would have in April served out four years as a member of the council. He was first elected to the council in 1929 with the installation of the present form of city government. He was re-elected in 1931 and was a candidate for re-election in the March primaries this year.
Mr. Mahan's name is printed on the primary ballot for the March 14 election. City Clerk R.E. McKeague declared that as far as he knows now the ballots will not be re-printed, but Mr. Mahan's name will remain in position. The two highest ranking candidates will have their names on the final ballot.
Name winners at ag school
The list of prize winners at the Douglas county farm school held at the vocational school this week was announced Saturday morning by C.L. Wildner, secretary of the Association of Commerce, sponsors.
Winners of prizes for eggs put on display at the school were A.L. Schlappi, Wentworth, first; Miss Mayme Lasch, Hawthorne, second; Amnicon Farms, South Range, third; T.F. Anderson, Superior, fourth; Mrs. A. Jacobson, Station B, fifth.
Potatoes: Harry Zant, South Range, first and third; T.N. Thorson, Station B, second; Adolph Nelson, Station B, fourth; Ole Nordley, South Range, fifth. Seeds: Paul Anderson, Poplar, won all five.
March 12, 1913
Sons and daughters surprise venerable Douglas County couple at Borea home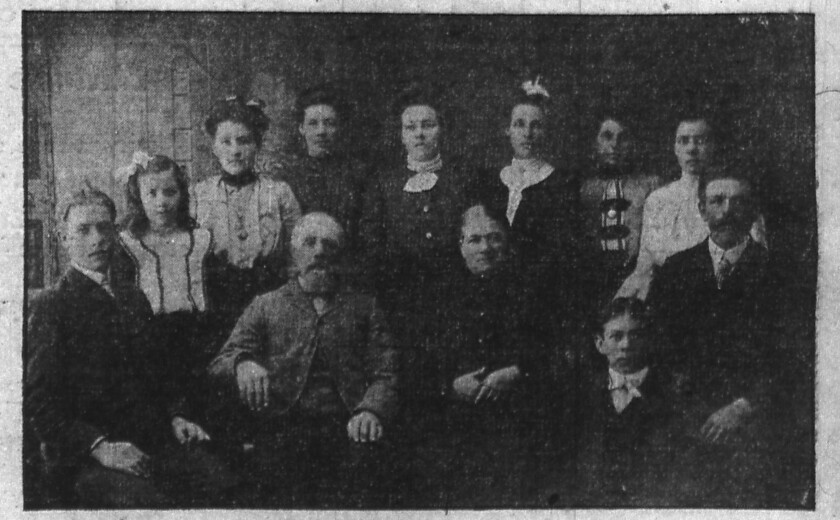 Last Saturday Mr. and Mrs. Gust. C. Warner of Borea, this county, were greatly surprised when nine of their 10 children gathered unknown to the old folks for a family reunion and celebration of their 45th wedding anniversary at the home of Mr. and Mrs. Warner.
The old folks were so taken by surprise when on Saturday morning the Soo train pulled in to the station with two of their children and the afternoon train brought three more and a little later, O.A. Berg came out accompanied by their oldest son, Caleb Warner, that Mr. and Mrs. Warner could hardly utter a word.
Two arrested at springs
Thomas Collins and Arthur Conners were brought to Superior this morning by Marshal Al Hunter of Solon Springs. Mr. Hunter, who is a former member of the Superior fire department, is now the police department of the summer resort on Lake St. Croix.
Collins and Conners are charged with assaulting Peter Kornstad, a resident of the town of Parkland, with a dangerous weapon.
According to Kornstad, the two men jumped into the rig he was driving yesterday and ordered him to hurry his team as they desired to get to Solon Springs in time to catch a train. Kornstad demurred to this, saying that he did not care to overwork his horses. Then one of the men drew a gun, took hold of the reins and drove the team.
The matter was reported to Marshal Hunter who trailed the men and placed them under arrest. There were no weapons on the men when they were arrested.
March 13, 1933
Ex-convicts brought here
Leon Johnston and Thomas Gilbert, ex-convicts charged with the robbing and shooting of John Anderson of Manitou Falls, were to be arraigned in municipal court before Judge F. S. Parker late Monday afternoon.
Deputy Sheriff Arthur Sedin returned to the city from Excelsior Springs, Missouri, with the two men wanted here Sunday night. Sedin made the trip in an automobile. Upon arriving here examination of the clothes of the two prisoners revealed three hack saw blades in one of Johnston's shoes.
Articles and pictures courtesy of retired librarian Judy Aunet with Superior Public Library.