Douglas County Past: Car breaks through ice on coyote chase; UFO expert pinpoints Gordon as hot spot
Stories from Douglas County's Past.
We are part of The Trust Project.
March 26, 1975
Superiorite spends spare time tracking down UFOs
Eugene Lundholm spends his spare time tracking down those will-o-the-wisps known as Unidentified Flying Objects, and his busy season has just begun.
Lundholm, librarian at the University of Wisconsin campus here, spent the weekend interviewing people who reported UFOs last Thursday when there were a host of strange objects and colored lights in the sky over northern Wisconsin.
Among others he talked to a farmer near Mellen — who reportedly saw a UFO that put down on his farm and then disappeared with a loud noise — as he continued his research into UFO sightings in northwestern Wisconsin he began two years ago.
Lundholm, who says he has seen at times things he considers UFOs, said the Gordon area in Dougals County is "a hot one. It seems to be a focus point for about a 55-mile circular area for such sightings."
He said many sightings — including some of the sightings last Thursday — were in the Gordon area.
"We seem to have more sightings in this area than any other," he said.
Tavern burns, motel damaged; many are stranded in Duluth
The Stockade Tavern in the town of Superior was destroyed by fire about 3 a.m. Monday in the blizzard despite efforts by Duluth firefighters.
An estimated $48,000 to the property and $72,000 to its contents occurred, according to the Duluth Assistant Fire Chief William Denno. The cause was undetermined and nobody was hurt, he said.
Although the tavern is located in Wisconsin, the Duluth department has responsibility for that area.
March 26, 1975
Three more burglaries reported
Burglaries took place during the blizzard Sunday or Monday at Tower Diamond Company, Godfrey Building Company and T & G TV in addition to the burglaries earlier reported at nine other Superior firms, police said.
March 27, 1975
A rare hobbyist is Matt Saari
MAPLE — They are a rare group of people — those hobbyists who collect and restore old stationary gasoline engines.
Listed among that rare group is Matt Saari, 72, who has a remarkable collection of 31 ancient hit-n-miss, and another two- and four-cycle gas engines once used on the American farm to pump water, thresh and grind grain, and saw wood back in the yesterdays.
Saari, a dairy farmer until eight years ago when he sold his 320-acre farm to his two sons and moved several miles south of his former farmsite, has been involved in early farm power plants ever since he ran a stationary gas engine on his parents' farm.
Saari said that he "never tires" of searching for an elusive engine.
"Too many people retire and then lay down and die," he said. "They ought to have a hobby such as mine. Pursuing it makes me feel 20 years younger. It seems there's not enough hours in a day for me to work on my engines."
Firemen unit aids several in storm
The Superior Fire Department was forced to press their portable units, a snowmobile pulling a covered sled and stretcher into action Monday, as members of the force spent the day picking up emergency cases and hauled them to local hospitals, since travel with any other mode of transportation was virtually impossible.
The unit, working out of the N. 18th Street Fire Station, was operated by firemen Dennis Edwards and Brad Buhr.
According to central headquarters in Superior, the unit was responsible for taking six individuals to the area hospitals. The emergencies included two pregnant women, a possible heart attack victim and various people with severe illnesses.
Edwards, in giving examples of some of the problems encountered, said that the wind was blowing so hard that at one point the snow machine he was driving was blown off the road and into the ditch.
Northwestern track season is underway
MAPLE — The Northwestern High track team will host Hurley and Ashland Highs Thursday night in an indoor triangular meet at Gates Arena in Superior.
The Tigers drubbed Duluth Cathedral, 86 ½ - 22 ½ in its lone test to date.
Coach Mike Jahn is optimistic this season with 17 returning lettermen in camp.
The senior veterans include Brad Staurseth, hurdles, relay; Russ Sharpe, 440, mile relay; Gregg Fechtelkotter, shot, discus; Dave Jahn, hurdles, pole vault and Scott Mauer, 440, mile relay.
The junior returnees include Karl Ehresmann, dashes, mile relay; Marv Kittleson, 440, mile relay; Randy Shook, dashes, relay; Kent Schroeder, hurdles, pole vault; and Bob Coleman, 880.
This will be Northwestern's first year in Heart of North Conference competition.
Snow battle by city rages
"Several breakdowns of Superior Public Works Department snow-clearing equipment occurred Wednesday so the number of pieces we can field is less than earlier this week," Department Director Fred Seguin said this morning.
"Mechanics are trying to fix these things so we can get them out but as I look out the window it looks like a continual battle through the week," Seguin said.
On top of the 12.4 inches of snow that came with the blizzard Sunday and Monday, another 3.6 inches fell between 4 a.m. Wednesday and 7 a.m. today, the National Weather Service in Duluth reported.
Another four to eight inches between 7 a.m. today and tonight is predicted by the service.
March 28, 1947
Car crashes through ice in coyote chase
Roland Murray, 1921 Lackawanna Avenue, Superior fireman, narrowly escaped drowning Thursday afternoon when his auto crashed through the ice into the waters of the St. Louis River near the Gitchinadji Country Club while he was chasing a coyote.
When the car first fell through the ice, only the roof of the vehicle was visible above the water, and Murray, alone in the car at the time, experienced considerable difficulty in crawling through a window to safety.
Murray said that he was trying to hit the coyote before it got to shore and when about 10 feet from land the car plunged through the ice.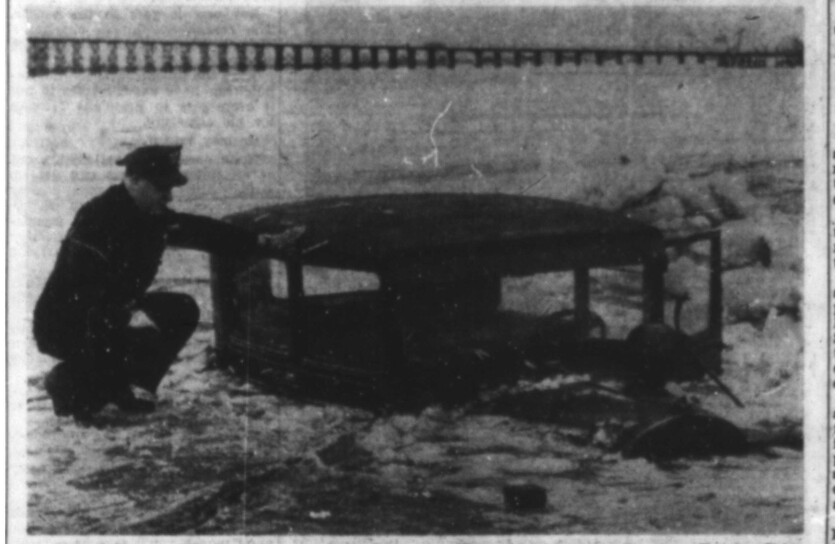 County spelling bee is Saturday
The Douglas County spelling championship will be at stake Saturday when contestants from 12 rural schools compete in a spelling bee in the county board room at the courthouse.
Douglas County contestants and the schools they represent are: Carol Magnuson, Poplar; Betty Jane Flamang, Solon Springs; Josephine Templeton, Rockmont; Jacquelyn Dondineau, Bennett; Robert Johnson, Hawthorne; Yvonne Cloutier, McKinley, town of Oakland; Janet Breitzman, Patzau; Florence Ledin, Lake Nebagamon; Delores Preston, Bengston school; Dean Nyquist, King school; Audrey Kingren, Stevens school; Louise Johnson, Waino.
March 28, 1975
SSHS chess club is No. 2 in Wisconsin
The Superior Senior High School Chess Club recently won second place in the annual state chess tournament. There were 40 teams entered in the competition.
The local chess team consisted of Jim Glover, senior, Kieran Dunphy, sophomore, Mike Dunigan, junior, Tom Matiski, sophomore, and Bob Unterberger, freshman.
Superior's only defeat came from the Two Rivers team. The Two Rivers team last year was ranked third nationally.
Articles and pictures courtesy of retired librarian Judy Aunet with the Superior Public Library.