Douglas County Past: Bong memorial dedication planned in Poplar; thief steals from Fargo-Moorhead team
Headlines from Douglas County's past.
We are part of The Trust Project.
May 20, 1947
Kind thief
Party steals hubcaps from car, puts them back next day
Some thieves are either remorseful or else what they carry away for their own use doesn't happen to fit their particular needs.
These conclusions were drawn Tuesday by Superior police who marked "case closed" on a citizen complaint regarding theft of automobile wheel hub caps.
Last Friday Robert Andrews, 1109 Twelfth Street, called police to tell them that between 8 and 9 p.m. someone had taken two hub caps from wheels of his car which was parked in front of his residence.
Andrews called headquarters back Sunday and told police to forget about his complaint regarding the stolen articles. Whoever it was that committed the larceny act either found that the caps (1) didn't fit his car; or (2) he felt Andrews needed them worse than he did, for Andrews found both caps neatly placed on his front porch Sunday morning – in just as good condition as they had been when stolen. No one knows who returned them.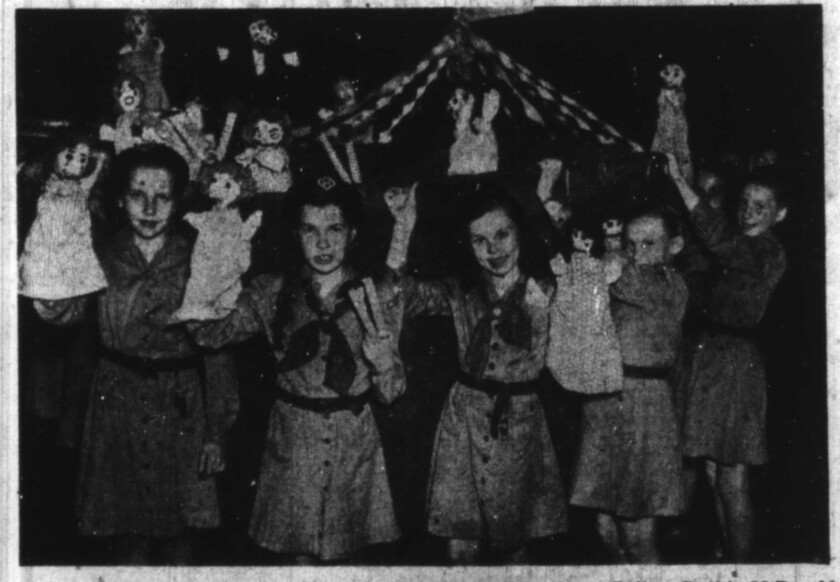 May 21, 1947
Police and Fargo team seek ball-playing thief in city
Superior police were hopeful Wednesday of picking up the trail of a baseball-playing thief, or thieves, who pilfered 42 brand new baseballs from the Fargo-Moorhead baseball team.
The baseballs, worth $2 apiece, were stolen from the Fargo-Moorhead bus while it was parked on Thirteenth Street, just off Tower Avenue Tuesday night.
Officers M. R. Johnson and Arthur L. DeBrock, making their rounds in a police squad car Tuesday night, noticed the trunk on the rear of the bus was open at about 11 p.m. They immediately notified Bruno Haas, manager of the team, who was staying at the Androy hotel.
Upon investigation, burly Bruno, a colorful figure well-known throughout the Northern league, ascertained that 42 new baseballs were missing.
"Gosh," declared Bruno. "That's the second time it happened."
Last summer yeggs also pilfered equipment from the Fargo bus while it was parked on a Superior street.
Bruno was naturally saddened by the loss of the balls, particularly since baseballs are still a scarce commodity and not easy to buy.
Bong memorial dedication Sunday
A memorial to the late Maj. Richard I. Bong, the nation's top fighter pilot in World War II, will be dedicated in Poplar, his hometown, starting at 2 p.m. Sunday. The memorial is a $115,000 addition to the Poplar Elementary School. It includes an auditorium, gymnasium, classrooms and trophy room. Unveiling of a refurbished P-38 plane of the type the ace flew will also take place.
Funds for the memorial project were raised by veterans groups, private citizens and the Poplar school district.
Major Bong was killed in August 1945 while testing a jet fighter. He had been recalled from duty in the Pacific, where he shot down 40 Japanese planes, only a short time before.
Archive Dive is a monthly podcast hosted by reporter Maria Lockwood. Episodes dip into the archives of historic events, people and places in Superior and Douglas County with local historians.
May 22, 1947
288 X-rayed by unit in Gordon appearance
GORDON – The Douglas County Mobile X-ray unit made its initial appearance in the county Monday morning at Gordon with the following personnel in charge: Mrs. Irene Rigg, Miss Judy Flinn, RN, Mrs. E. H. Schreiber, RN, and William Bates, X-ray technician.
Local assistants were: Mrs. Roy Lawler, Mrs. Ray Smith, Mrs. Dale Benson and Mrs. Roy Guest.
A total of 288 people were X-rayed during the all-day session when the entire membership of the school and teachers were taken care of at the school during the morning, adults and others in the community were handled at the town hall during the afternoon
The unit also made a trip to the prison camp southeast of Gordon during the morning where they were assisted by Rupert Chadwick, camp superintendent.
Enviable 14-year record set by bus driver
SOLON SPRINGS – Somewhat of a distinguished impressive record has been set by Nick Limpach, one of the bus drivers for the Solon Springs school. His beginning to this enviable record began in the fall of 1933. At that time he drove a model A Ford coach, which accommodated his six passengers. In 1934, because of an increase in the number of school children on his bus route, Nick purchased a half-ton Ford panel coach. By this time, his bus transported 12 children. A year later, 1935, Mr. Limpach bought a three-quarter ton panel coach as the carrying capacity was raised to 15 children.
By the school term of 1944-45, the size of Nick Limpach's route had risen to a total of 47 pupils, so he bought a large 1942 model Ford bus. This is the same bus which he still has today.
During these 14 years, Mr. Limpach has rendered a valuable service to the Solon Springs school. Over this 14 year period, he has missed only one trip and he hasn't been involved in any accidents.
Ouch!
Man punches fist through plate glass window to "get even"
It cost either Francis Aiken, 26, or Francis R. Aiken, 25, of La Pointe and Bayfield, respectively, a badly swollen hand and $46, all because one of them gave vent to an "unknown urge" and shoved a fist through a 6x9 foot plate glass window of a Superior-Duluth Transfer Company warehouse at 1801 Third Street Thursday.
According to the police report the Aikens, neither of whom are related, went on a drinking spree early Thursday morning, and wound up with one of the duo punching his fist through the glass window. No entry was made. Asked why the act was done, the reply was "just to get even or something." It was reported the two had been refused a drink in a tavern immediately prior to their destructive act.
They were booked on a charge of drunkenness, pleaded guilty, and both sentenced to pay $53 or spend 60 days in the county jail.
May 23, 1955
7 persons naturalized in Superior
Seven persons from Superior and vicinity became citizens of the United States Monday at ceremonies in the court room of Circuit Judge Carl H. Daley.
The five new local citizens and their origin are Joan Megan Baldock, 1310 Lincoln St., England; Edith Matilda Clements, 206 E. Seventh St., Sweden; Signe Charlotte Hultner, 702 Grand Ave., Sweden; Axel Seagren, 1107 Harrison St., Sweden, and Peter Kaczmarczyk, 1611 N. 12th ST., Poland.
Others included Mr. and Mrs. Sulamit Ilse Ozolins, Barronett, Latvia.
Iron blamed in $2,000 blaze in city
A burned ironing board cover doused previously with water and believed extinguished is reported to be the cause of $2,000 fire damage to the home of Walter Kangas, 1024 Oakes Ave.
After an electric iron had burned the ironing board and water was tossed on it by Mrs. Kangas, the board was placed in a garage connected with the house. A passerby spotted flames early Thursday and called the fire department. Damage included $150 to the automobile in the garage and $50 to the contents.
Articles and pictures courtesy of retired librarian Judy Aunet with the Superior Public Library.