Dispatches from Douglas County: Young musicians, Superior Automotive and a new Yellowjacket coach
Read the latest news in the Dispatches from Douglas County newsletter published every Friday.
We are part of The Trust Project.
SUPERIOR — We had so much news that we couldn't fit all of it in our print edition this week, so be sure to visit superiortelegram.com to read much more than I can run down here.
And before I forget, the Thanksgiving subscription deals I mentioned a few weeks ago have been extended! Check out the options and please consider a subscription if you're able. To those of you who already subscribe, thank you!
Now, here are this week's headlines:
Students at Four Corners School got a crash course in songwriting when musician Charlie Maguire spent a week as an artist in residence at the school.
Repair shop changes hands
Bob's South Tower Auto Repair is under new ownership. Zak McClelland, pictured above at right, purchased the longtime Superior business from Bob Anderson, left. McClelland also owns and operates Mrs. Mac's Towing and Transport in Duluth.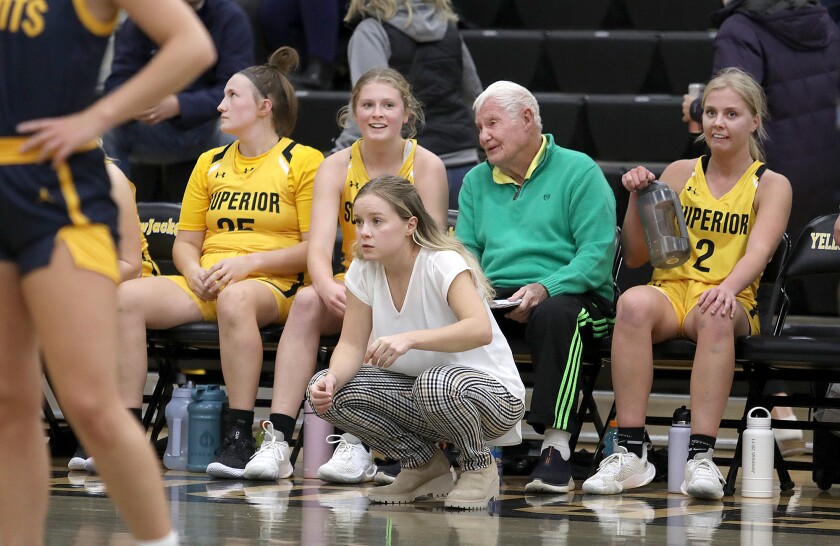 At least, that's how Wisconsin-Superior head women's basketball coach Emily Carpenter, 24, and assistant coach Hal Mulhern, 87, see it.
Carpenter, who played for the Yellowjackets, took over as head coach this season. Mulhern agreed to help her however he could.
More stories to check out:
The Superior City Council on Tuesday, Dec. 6, rejected a new liquor license application for the former Palace Bar on Tower Avenue.

Randall Charles Mulvaney, 64, of Watertown, Wisconsin, died Monday, Dec. 5, after falling from a ship in dry dock at Fraser Shipyards. OSHA is now investigating his death.

A jury found Robert Lee Bennett III, 42, guilty of first-degree intentional homicide in the stabbing death of his mother. However, the trial's second phase, in which the jury must determine if Bennett was responsible for his actions, is now underway.
Editor's note: Dispatches from Douglas County is a newsletter I publish every Friday morning. Please consider subscribing — it's free — and hits your inbox just once a week. You can sign up here.