Kern, Milroy differ on redistricting, pandemic
Incumbent Nick Milroy faces his first ballot challenge in a decade from Superior City Councilor Keith Kern.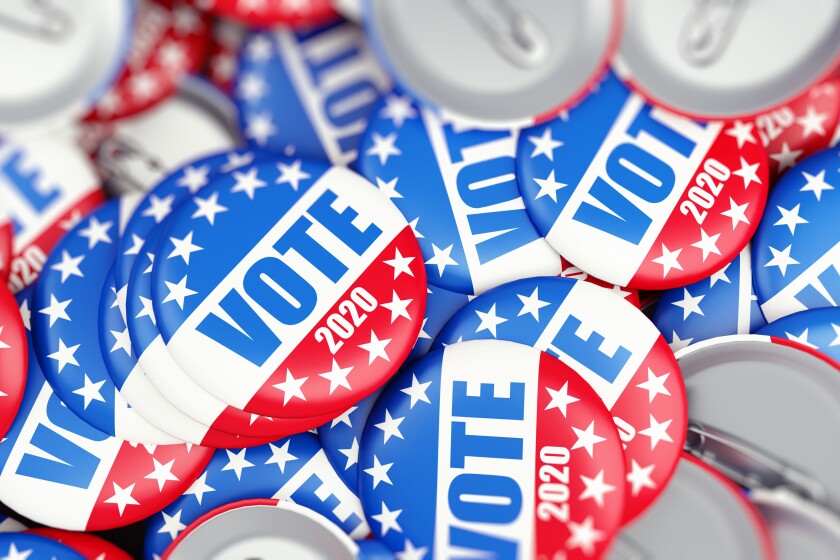 For the first time in a decade, voters have a decision to make about who will represent them in the Wisconsin Assembly.
Democratic incumbent Nick Milroy is facing a challenge from Republican Keith Kern on the Nov. 3 ballot for a chance to serve the 73rd District. It's the first ballot challenge the Democrat has faced since 2010.
Milroy did face a not-well-known challenge from write-in Republican candidate Jeffrey Monaghan in 2018, but easily won with nearly 97% of the vote.
Wisconsin's next Legislature will be responsible for redrawing legislative boundaries following the 2020 U.S. Census. How those boundaries are drawn can have political consequences for the next decade. In November 2018, Republicans only earned about 45% of more than 2.4 million votes cast in Assembly races statewide. Despite it, the body consists of 63 Republicans and 34 Democrats with two vacancies.
Milroy acknowledges that he is the likely beneficiary of Wisconsin's gerrymandered districts because the 73rd District is "packed" with Democrats. Despite it, he said he supports a nonpartisan process to draw new legislative boundaries and has signed a fair maps pledge put out by former U.S. Attorney General Eric Holder.
He said people should elect their representatives rather than having politicians select their constituents.
"Other states have in place nonpartisan commissions that draw the maps, and I think we should use a model similar to what other states use to make sure it isn't a partisan process," Milroy said.
Gov. Tony Evers has assembled a People's Maps Commission, a nonpartisan redistricting commission, charged with drawing fair and impartial maps following the 2020 U.S. Census. The panel of residents was created by executive order to present maps for the Legislature to consider.
However, Kern said the Legislature has a process for drawing maps, and if that process needs to change, it's something the Legislature should discuss.
"We have a process in place, and we have a process to change it, so those discussions need to take place, but I support the current process," Kern said.
Wisconsin, like states across the nation, is facing protests for racial justice and a rallying cry to defund the police, but both candidates say defunding the police isn't the solution.
"First and foremost, I will not go in support of defunding the police department at all," Kern said. "On a local level, I've worked hand-in-hand with the police department on several issues, not only as a councilor, but as a citizen. We can always better ourselves. I think one of the measures we can do is increase the training. On a local level, we've already been doing that. You see what we've done with this upcoming budget — bringing on a social worker. I think those are great tools."
Kern said while those are important conversations to have at the state level, it is equally important that the Legislature doesn't create new requirements local municipalities cannot afford to implement.
"It's going to have to be a working partnership between local municipalities and the state to make sure we do it in a responsible fiscal manner," Kern said.
Law enforcement officers "by and large" serve their communities well, Milroy said.
"They have one of the most difficult jobs in our society, and I think that 99% of police officers are wonderful public servants," he said.
Still, he said, there is room for improvement, and he supports a package of bills aimed at increasing police accountability and transparency introduced by Gov. Tony Evers and Lt. Gov Mandela Barnes in June.
"The biggest issue when it comes to policing in our country, and in Wisconsin, is the fact that we expect too much from police officers," Milroy said. "We expect them to be social workers and mental health professionals, and they don't have the training and resources to deal with those. I don't think they should be the ones dealing with some of the situations. We need to do a better job of getting officers training, de-escalation techniques, but we also need to have social workers and mental health professionals integrated into our police departments to deal with situations that police officers aren't necessarily trained to deal with."
The recent uptick in the number of cases of COVID-19 across Wisconsin prompted the Evers administration to issue a new emergency order last week to restrict public gatherings through Nov. 6.
"We have to trust science and listen to the public health experts," Milroy said. "They're telling us that mask mandates work to help slow the spread, social distancing works."
Milroy said the primary responsibility of government is to keep people safe.
"Because this has dragged on so long, we need to follow up … so businesses can find resources to keep their doors open and keep their operations going," Milroy said. "I think the Legislature has a responsibility to go back in right now to provide relief to small businesses."
Kern knows first-hand the challenges the pandemic has posed for small businesses. He led Superior's effort to create an economic relief fund to help small businesses struggling because of Wisconsin's safer-at-home order.
"We're going to have to look at some additional grants to help small businesses and people who are struggling to put food on their table," Kern said. "Nobody wants to be in this position. Nobody wants to either close their business or be unemployed. It's been a challenging year for myself, other small businesses, my employees, friends and family, but we've got to continue to be smart on the decisions we're making because it's not always one-size-that-fits-all that works and there's a ripple effect."
Kern said one good place to start would be the state's outdated unemployment system.
While there has been a tendency to blame Republicans for the failures of the unemployment system, Kern said the Wisconsin Department of Workforce Development has never requested funding to upgrade it, not even in the budget proposal recently submitted to the governor.
"I definitely think our unemployment system needs work … It's definitely a discussion we need to have," Kern said. "We don't know how long this pandemic is going to continue. Right now, we're looking at another reduction in capacity that's going to lead to more layoffs and possibly business closures."
In a normal year, Kern said his priorities would be different, but the pandemic has changed that somewhat.
"We're going to have to address the budget shortfalls, the unemployment system like I talked about, and health care in two parts," Kern said.
In addition to addressing testing and needed personal protective equipment for health care workers, Kern said the Legislature is going to have to address the rising cost of health care.
Milroy said the pandemic, state budget and health care are issues that will have to be a priority for the next Legislature.
"We have to make sure that people that are out of work have income coming in," Milroy said. "That includes fixing our broken unemployment system. We have to make sure we can get people back to work safely by assuring that they have the proper personal protection equipment, that they have sanitizing products. These are expenses that businesses have now that they wouldn't have had, through no fault of their own and it's important that government help subsidize that because these are not normal business expenses."
About Keith Kern
Residence: Superior
Party affiliation: Republican
Occupation: Owner of Jimmy's Saloon
Education: Superior High School class of 2003
Government and civic experience or organizations: Superior City Council, Billings Park Business Association president and treasurer, Superior Douglas County Tavern League president, 8th District Tavern League of Wisconsin director, Winterfest planning committee, treasurer Lake Superior Ice Racing Association.
About Nick Milroy
Residence: South Range
Party affiliation: Democrat
Occupation: Wisconsin Legislature
Education: University of Wisconsin-Superior graduate with a degree in biology.
Government and civic experience or organizations: Superior City Council, Lake Superior Binational Forum, St. Louis River TMDL Partnership, Wisconsin Assembly, executive board of the Great Lakes Caucus, co-chair Sportsman Caucus.