Incumbents, challengers face off for Maple School Board seats
Most agree that the district's teachers are one of its biggest strengths.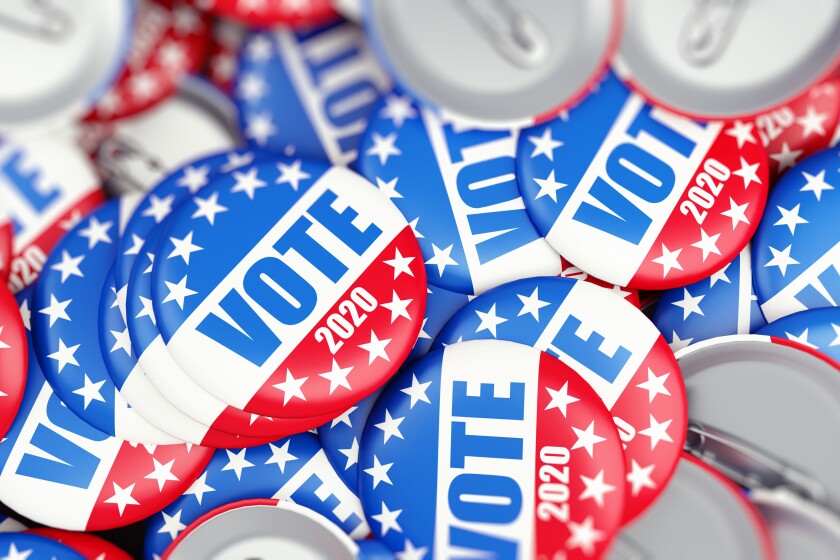 Three incumbents and three challengers are vying for three seats on the Maple School Board.
Danna Livingston-Matherly has served on the board since 2014. One of the district's biggest strengths, she said, is its high test ranking.
"I think where we score compared to other districts shows how effective our teachers are and how conducive our environment is to learning," Livingston-Matherly said. "Of course there is always progress to be made, but as a board we have worked hard to provide incentives for our teachers to continue on with us, as well as focusing on the curriculum and learning resources needed."
Financial restraints, she said, are the biggest challenge facing the Maple School Board and lead to difficult decisions on how to best use the money the district has. It's a constant balancing act, she said.
Her priority is to deliver a top-notch education to students, she said.
Jim Streveler, current vice-president of the board, said he brings an open mind and years of experience to the position. In addition to 15 years on the school board, he taught in the district for 33 years and served as town assessor in Cloverland for six years. Communication, collaboration and cooperation with both the community and administration are among his top priorities.
Streveler said the great teaching staff, strong community support and the variety of programs offered are some of the district's biggest strengths.
Develping more career-oriented classes, starting at a younger age is one of his priorities
"I'd like to see some career exploration in the middle school," Streveler said. "And I think we have to get into more skills in the high school area. I think we need more skills hands-on."
RELATED: About Jason Deatherage
RELATED: About Brian Johnson
RELATED: About Danna Livingston-Matherly
RELATED: About Milton Olson
RELATED: About Gail M. Saari
RELATED: About James Streveler
Gail Saari has been on the Maple School Board for 20 years, currently serving as the clerk. Raised one of 10 siblings, Saari said she understands kids, but she's continued to learn about them as a school board member, having been actively involved in state- and regional-level education forums for all 20 years.
Saari said she brings a forward-looking view to the board.
"We're constantly evaluating, getting data," she said. "We have to keep moving forward. I think we have to teach students globally nowadays."
Maple excels at core areas like testing, she said, but funding is a challenge. There is a need for more mental health resources, as well, she said, especially with students who have experienced trauma.
The district teachers and staff are its biggest strength, she said.
"They are trying to find how to connect with kids so they learn," Saari said.
Milton Olson, a retired teacher and businessman who previously served one term on the board, said he wants to be an advocate for student health. His top priority would be to convince the district administrators and other school board members that block scheduling, 80-minute learning blocks, is a very poor model for a rural school district.
"It doesn't take into account how large our school district is, that kids can't just walk to a gym and use recreational facilities. We're too spread out," Olson said. "So the school has to do a better job of providing those opportunities for students to develop a healthy lifestyle."
The dedicated teachers and staff are one of the district's biggest strengths, Olson said.
The declining enrollment and lack of growth in the district is a challenge, Olson said, as is attracting and retaining quality teachers.
Brian Johnson would like to put his experience as a superintendent of a power plant to work for the district. The challenger said he brought members of his department together at Minnesota Power, and he'd like to do the same in the Maple School District.
Among his priorities would be to create or update policies and procedures to hire and retain employees to ensure they're consistent and to create a third-party ethics hotline where staff at all levels could report concerns.
The Amnicon man said he would look into additional energy-saving strategies at the district's new facilities and make sure there was a long-term plan in place for their upkeep. Succession-planning for administrators is another thing Johnson said he'd like to set up.
One of the biggest strengths of the district is its deep roots, said Johnson, whose children and grandchildren all attended Maple schools.
"People have a personal connection," he said. "We don't take decisions lightly. We're pretty proud of this district."
Jason Deatherage, whose children attend first and fourth grade, said he brings a fresh perspective to the board. A business owner and a parent with young children, Deatherage feels he would be a good fit to increase the diversity of the board.
The Poplar man said he has many local business connections and has experience working with a budget. As a business owner he's learned to innovate to be more successful.
The district's dedicated teachers are one of its biggest strengths, Deatherage said, but he's concerned many of them don't feel valued. He listed budgeting and employee morale as some of the district's biggest challenges.
District communication, he said, was both a strength and a challenge.
"The district communicates issues with the community well," Deatherage said. "I'm not sure the community is able to respond."
His top priorities include making teachers feel valued and reducing class sizes. With such a spread-out rural district, Deatherage said, busing is also a challenge. Utilizing a virtual or blended learning program could help with both issues, he said.
A video of a March 11 forum featuring four of the candidates is available on the Northwestern Elementary School PTA Facebook page.