Elections agency approves polling place flexibility in light of COVID-19
Presidential primary polling places could be relocated from nursing homes, other sites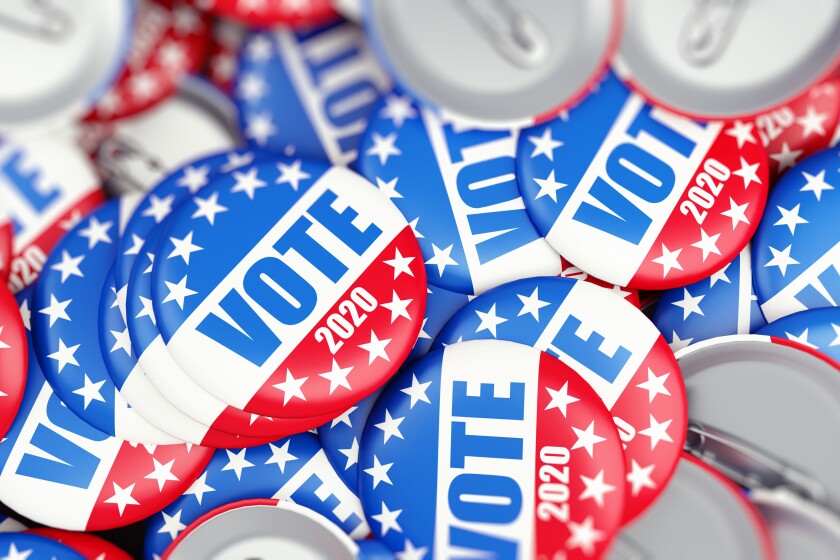 The Wisconsin Elections Commission voted Thursday to give local election officials more flexibility to relocate polling places in response to the COVID-19 pandemic.
The guidance, approved during an emergency meeting of the commission, is effective for the state's upcoming presidential primary election on April 7 and the 7th Congressional District special election on May 12.
Commission members voted unanimously to allow local election officials to relocate polling places from nursing homes "and other facilities as designated by (the state Department of Health Services) or local health officials" without getting approval from local government or elections commission, as is required under state law.
The move came soon after Gov. Tony Evers declared a state public health emergency in response to COVID-19. There have been eight confirmed cases of the virus in Wisconsin.
"The threat posed by the COVID-19 coronavirus is a rapidly evolving situation," commission chair Dean Knudson said during the meeting. "The population that is at the greatest risk is the elderly and those with other pre-existing health problems. Particularly of concern are our residents of nursing homes and other such facilities."
"Clerks have been making the commission aware of their concerns related to the elections coming up," he added.
Polling places at schools and community centers could also be relocated, pending guidance and coordination between election and health officials.
"There may be other facilities where clerks are facing this decision, where they'll have to consolidate or relocate polling places," commission administrator Meagan Wolfe said.
Wolfe said guidance on requirements for notifying voters about any relocated polling places is still being worked out.
"Let's get these polling places out of these nursing rooms," commissioner Bob Spindell said during the meeting. "A voter could walk in and leave (germs) in there ... that's a critical factor right now."
The commission also voted unanimously to bar election officials from beginning the Special Voting Deputy (SVD) process for individuals who live in nursing homes. SVDs bring ballots to the facilities and assist residents with voting. The process was scheduled to begin on Monday.
Instead, clerks will send absentee ballots by mail to residents who request them.
"This has all been very rapidly evolving today," Wolfe said. "We will now work with the clerks and the commission to determine the process for which they send those ballots by mail."
Nursing home residents would also be able to participate in in-person absentee voting or visit a polling place on Election Day, if they are able.
During the emergency meeting, commissioners also raised other potential consequences of the COVID-19 pandemic on elections, including a possible shortage of poll workers.
"Our traditional poll workers, who are older folks who volunteer their time, may not want to — and it may be a bad idea for them to — be poll workers," said commissioner Ann Jacobs.
Jacobs floated the possibility of consolidating polling locations to accommodate potential staffing shortages.
Knudson said the commission should look into encouraging in-person absentee voting and voting by mail.
He noted, however, that could pose some logistical challenges for some municipalities who don't have the supplies, or the budget for supplies, to allow for widespread in-person absentee and mail-in ballots. He said those issues may need to be addressed.
A number of commission members noted this is likely the first of more meetings related to COVID-19 and upcoming elections in Wisconsin.
Wisconsin Public Radio can be heard locally on 91.3 KUWS-FM and at wpr.org.
As a public service, we've opened this article to everyone regardless of subscription status.