The Old Fashioned: 'I'll have the juice' at Dreamland
Sports reporter Jamey Malcomb and his wife answer an unexpected question at the Dreamland Supper Club in South Range.
We are part of The Trust Project.
SOUTH RANGE — My wife, Lisa, and I don't do a ton of research before going to a supper club for this column, but we do try to take a look at the menu.
This is assuming the place has a) a website, and b) a menu posted on that site.
In fact, I avoided doing any research on the Dreamland Supper Club in South Range because of what I had heard.
Sports reporter Jamey Malcomb starts his summer tour of Wisconsin supper clubs at the foot of the Blatnik Bridge.
A colleague in the newsroom overheard me discussing the supper club project and I mentioned Dreamland was on my list of places to visit. "Is somebody talking about Dreamland," he asked. "That place is good."
I mentioned it to another person in the newsroom and his reaction was decidedly different. "Dreamland? That place is weird," he said.
Turns out, they're both right because the Dreamland Supper Club did not disappoint. From the fake ivy hanging from the wooden spindles to the jungle cat art on the walls, Dreamland is like every non-Wisconsinite's image of what 1970s Wisconsin must have been like.
But let's take a closer look at the menu, particularly the small print at the bottom: "All main entrees include relish tray, bread sticks, soup or juice and salad or coleslaw."
Read that again carefully, because I want to talk about the "soup or juice." The entire ride from our house to South Range was consumed with one question: "What does that mean?"
We wondered if it was a typo. We even thought maybe it was a terrible autocorrect mistake that should have been "soup du jour." Lisa made one thing clear: If there was an option to order juice, that was what she would order.
She ordered the chicken and ribs entree and I ordered the walleye. When the waitress got to the side options, she explained we could have chicken and dumplings, a prime rib vegetable soup or a glass of tomato juice.
I ordered the chicken and dumplings because I'm a coward. Lisa true to her word, said: "I'll have the juice."
Three days later, I still have so many questions about this that I was afraid to ask, and a Google search of "soup or juice Wisconsin supper clubs" returns few results.
Several restaurants across the state offer a choice of tomato juice or soup, but I can't find out if this is a thing.
It was served with my soup, so it wasn't supposed to go with the meal, and tomato juice isn't something that I think of being served — well anywhere, really.
"I've never been served a glass of tomato juice before in my life — until now," Lisa said.
If someone can explain to us what the genesis of soup or juice is, I'd love to know. I honestly feel like I'm missing something.
That said, the fact that Google was pretty stumped on the question of soup or juice, well, I feel some vindication there.
On the other hand, we made a fine discovery. My walleye was fine, the ribs were good — we basically share everything we order — but the fried chicken, Lord, have mercy. Let's talk.
I grew up in North Carolina and if there's any universal truth about southern men, we all like a little fried chicken from time to time. Colonel Sanders has good marketing, but when I'm looking for good fried chicken, it's typically a mess mama fried up after church on Sunday.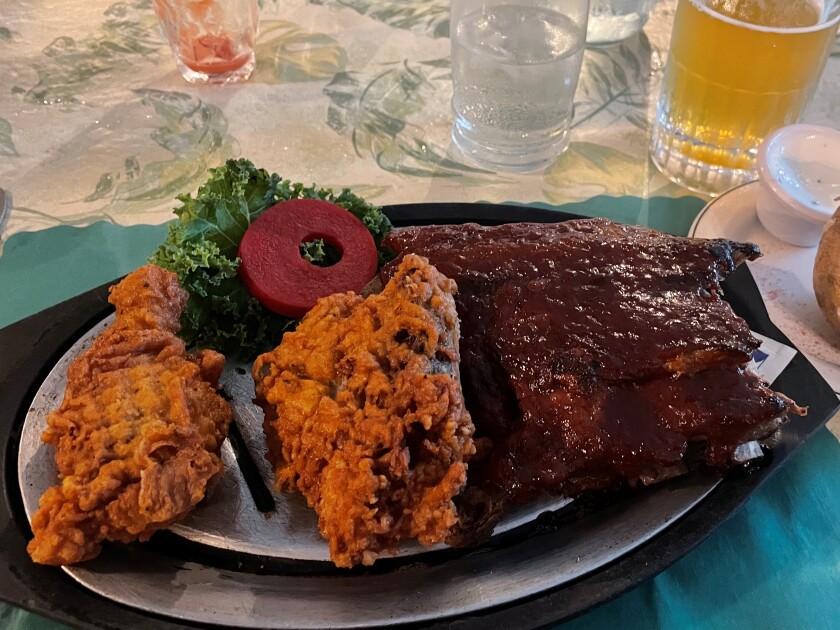 That being said, when Lisa took a bite out of her leg, I could almost feel the crunch from across the table. It was crispy, it was tasty and one of the best pieces of fried chicken I've had since moving to the area 10 years ago.
We both said we would go back just for the chicken, but there were some nice-looking steaks floating around the dining room, too.
Also shockingly good: the breadsticks, but I wouldn't describe them as breadsticks, per se. They were like straight, savory doughnuts.
Dreamland was everything I hoped I would find checking out Wisconsin supper clubs this summer, but it still found a way to surprise and amuse me.
And the next time they ask me if I want soup or juice, I think I'll say, "I'll have the juice."