DESTINATION: ITASCA STATE PARK
Source of the Mississippi River
This article is from DESTINATIONS magazine, your source for inspiration and resources about travel in Central and Northern Lakes Area Minnesota! Read on for more links and information about some of Itasca State Park's most noteworthy sites and events, or click here to return to mndestinations.com , where you can browse travel articles about other communities throughout the region.
For fun DESTINATIONS apparel and more, visit shop.forumcomm.com/midwest-apparel.
DESTINATIONS is a travel magazine published annually by select Forum Communications Company newspapers.
----------------------------------------------------------------------------------------------------
Park Rapids is the gateway to Itasca State Park . The south park entrance is a 19-mile drive from Park Rapids north on U.S. Highway 71, and the east entrance is only a couple miles farther north, near the junction of Highways 71 and 200.
Itasca State Park encompasses Lake Itasca, the official source of the Mississippi River , and is a scenic area of northern Minnesota that has remained relatively unchanged from its natural state.
Established in 1891, Itasca is Minnesota's oldest state park.
Today, the park totals more than 32,000 acres and includes more than 100 lakes.
Stand under towering pines at Preacher's Grove. Visit the Itasca Indian Cemetery or Wegmann's Cabin, landmarks of centuries gone by. Camp under the stars, or stay the night at the historic Douglas Lodge or cabins. Explore Wilderness Drive past the 2,000-acre Wilderness Sanctuary, one of Minnesota's seven National Natural Landmarks.
But the main attraction is walking across the headwaters of the Mississippi River on stones at the mouth of Lake Itasca.
There are plenty of other outdoor activities to do at the park, such as taking an excursion boat on Lake Itasca, exploring along Wilderness Drive, biking or hiking along more that 30 miles of designated trails, fishing in one of the many lakes, observing the wild flowers in season, or birding. Like the entire Park Rapids area, wildlife can be seen throughout the park.
For more information about events and schedules, call Itasca State Park headquarters at 218-699-7251 or visit the DNR website .
----------------------------------------------------------------------------------------------------
NOTEWORTHY THINGS TO SEE AND DO
Travel to the Headwaters in historic fashion
Lake Itasca Tours offers narrated boat tours to the Mississippi River headwaters. Aboard the 141-passenger Chester Charles II, the boat cruise follows the same route taken by Ozawindib in 1832 when he guided Henry Rowe Schoolcraft to the headwaters of the Mississippi River, where they recorded the source of the greatest river in the U.S. as it begins its flow 2,552 miles to the Gulf of Mexico.
Grab a paddle and hit the waves

Canoeing and kayaking are popular along the rivers throughout the Park Rapids area. Fishing, swimming, camping and photography enthusiasts will especially enjoy a serene river excursion.
The Minnesota Department of Natural Resources recommends planning a trip ahead of time. The Park Rapids DNR Forestry Office and the Park Rapids Lakes Area Chamber of Commerce have free canoeing and kayaking maps available.
Both the Crow Wing River Trail and Headwaters River Trail are top choices for paddlers.
The Crow Wing River is an excellent choice for family canoeing or tubing; quieter stretches make good swimming and fishing spots. The river flows between a chain of 11 interconnected lakes, which begins near Nevis and Akeley. The river joins the Mississippi River at Crow Wing River Park, just south of Brainerd. Numerous campsites dot the forested riverbanks on the journey southward.
After exploring Itasca State Park, paddle on the Mississippi at the Headwaters River Trail. In its first 90 miles, the river winds through ancient lake beds, glacial hills, wetlands, nine large lakes and narrow valleys of spruce. Rapids dot the entire river, which offers great walleye, northern pike and muskie fishing.
Enjoy the fall colors by bike
The Itascatur Outdoor Activity Club 's premier event – the Headwaters 100 – attracts hundreds of bicyclists every year. Kickstands go up on the fourth Saturday of September. The Headwaters 100 is a casual, non-competitive and family-friendly ride to witness the area's spectacular fall colors. Participants can choose between 45-, 75- or 100-mile routes.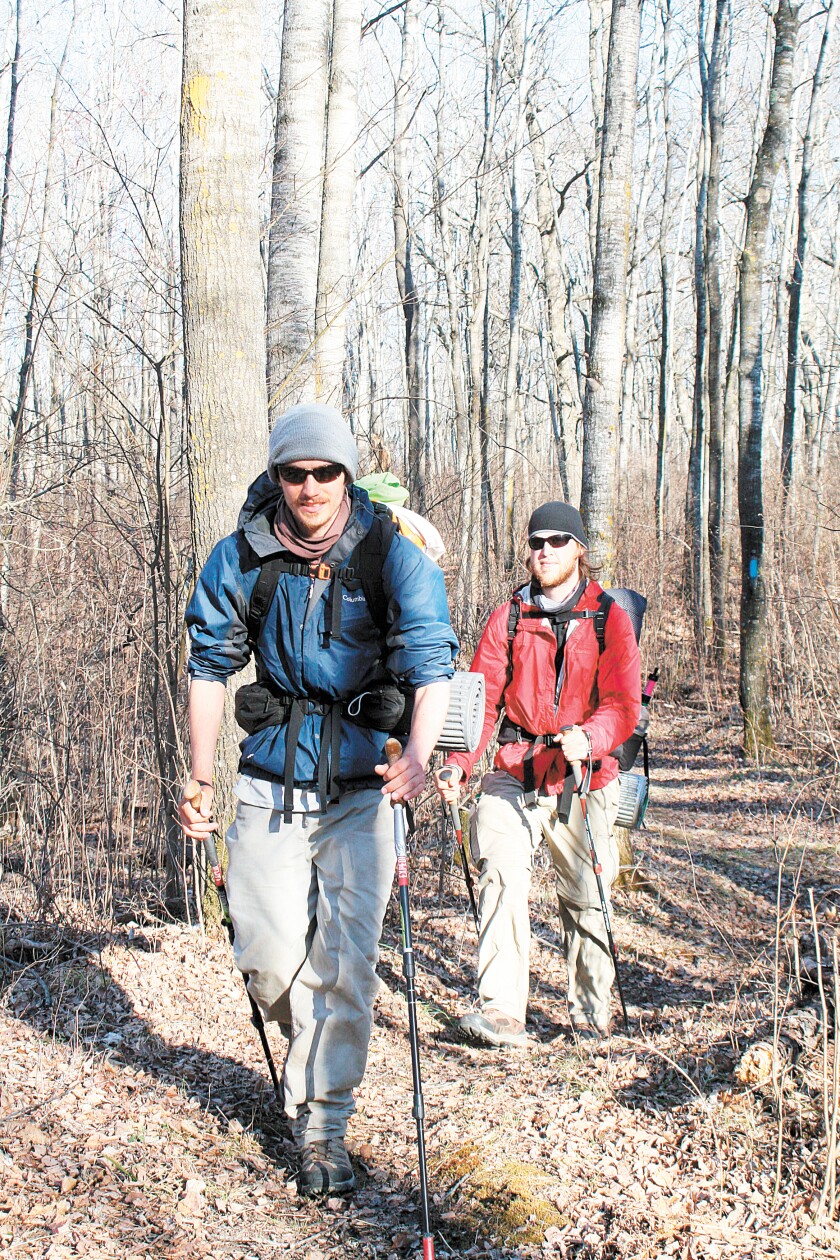 From New York to North Dakota, hikers can traverse the North Country Trail . Winding through seven states, the trail is the longest national scenic trail in the U.S. It's the only one in Minnesota.
The trail enters Minnesota near Jay Cooke State Park and winds toward the Chippewa National Forest , the Paul Bunyan State Forest and the scenic Itasca Moraine landscape before heading further south through Maplewood State Park and on to the North Dakota border. Upon reaching Itasca State Park, the trail is in the neighborhood of the Mississippi headwaters before turning south and following the Laurentian Divide .
The trail path is natural, with roots and snags removed and overhanging limbs trimmed for unimpeded travel. Open to foot traffic only, the hikers, berry pickers, hunters, birdwatchers, geocachers, snowshoers and anyone else walking this trail are in for a treat: it meanders through forested hills and valleys interspersed with rivers, lakes, and numerous wetlands.
Short day hikes or overnight hikes are possible.
----------------------------------------------------------------------------------------------------
CLOSE TO ITASCA: STATE AND NATIONAL FORESTS NEARBY
Divided into north and south units, Paul Bunyan State Forest offers miles of hiking, off-road vehicle, ATV and off-road motorcycle trails as well as areas for snowmobiling, horseback riding and mountain biking. Its 105,113 acres feature a terrain that's rough and hilly, with many tiny ponds and bogs. The Minnesota Department of Natural Resources manages two outdoor recreational facilities in the forest: Mantrap Lake Campground and Gulch Lake Campground.
Mantrap Lake is a designated muskie lake. The campground and day use area offers 38 primitive campsites, swimming, water access, fishing, a dock, five picnic sites and nature trails. Gulch Lake Campground is located near Nelson Lake, Lake 21 and Bass Lake. The campground serves as a great access point to hiking trails, water accesses and picnic sites. The campground and day use area is located within a game refuge and a non-motorized recreation area.
Five campsites are found within Huntersville State Forest. All offer picnic tables, fire rings, firewood, toilets and well water. Most have nice swimming areas adjacent to the campground and canoe landing. A 23-mile horse trail, featuring two loops and a river crossing, starts at the Shell City Horse Campground. Located 12 miles southeast of Park Rapids, it also boasts trails for motorized and non-motorized use.
Located 10 miles north of Park Rapids, Two Inlets State Forest provides more than 27 miles of snowmobile trail that connects to other area trails. Boat accesses are located on Hungry Man, Cedar and Two Inlets lakes. Two Inlets Lake offers good fishing for all species. This state forest is known for excellent hunting of deer, ruffed grouse and small game.
Smoky Hills State Forest is also known for exceptional hunting for deer and grouse during the fall season. Enjoy 30 miles of snowmobile trails in this state forest, located 10 miles west of Park Rapids. North Smoky Hills Trail has 13 miles of trail and can be reached from Osage. Wolf Lake Trail has 17 miles of trail and is located 3.5 miles south of Osage. Both trails are marked, but not groomed.
Chippewa National Forest is located five miles east of Akeley, along State Highway 34. Nestled along the rolling hills of the Shingobee River Valley, the Shingobee Recreation Area inside the national forest provides a variety of summer and winter activities. The area offers six miles of trails for hiking, hunting, birdwatching, primitive camping, and cross-country skiing in the heart of Minnesota's northwoods. A sliding hill and weekend warming chalet are also available for winter fun.