ADM rewards North Dakota couple's regenerative practices with premium contract for 'Knwble Grwn' flax
Archer Daniels Midland is paying Paul and Diane Overby, regenerative farmers from Wolford, North Dakota, to produce flaxseed to be sold in specialty food production markets.
We are part of The Trust Project.
WOLFORD, N.D. — A North Dakota farmer is among a handful of farmers in the Dakotas to grow flaxseed "regeneratively" for the food market for agricultural powerhouse Archer Daniels Midland.
Paul and Diane Overby of Wolford, North Dakota, grew flax in 2022 for ADM's new brand that is spelled "Knwble Grwn" and pronounced "Noble Grown." ADM started a pilot program in 2022 and officially will launch the brand in March 2023 and wants to double acres in 2023.
Under the contract, ADM pays a per-acre premium for flax in ways consistent with ADM's environmentally-friendly aspirations.
The Overbys harvested their flax for the brand in September 2022. The company will pick the flax up this month at the farm and truck it directly to their Red Wing, Minnesota, processing plant. They'll sell some of the seeds raw but will crush most for an oil market, in small runs. They sell the seeds to foodies and the flaxseed oil to consumers — initially through their own website and then through online retailers like Amazon and Walmart.com.
Paul said he's happy about the premiums but even more excited that one of America's major agricultural players is connecting consumers with building soil health.
"Knwble Grwn" is a "play on words," explained Jaime Goehner, an ADM commercial manager in Minneapolis. "If you think about the 'noble' work that farmers have done for centuries."
And consumers want to "know" about where their food is coming from — " what type of soil, what geography," Goehner said.
To Paul, "regenerative" means reducing disturbance to the soil. It means reducing the "environmental load," increasing soil biology and health, and reducing synthetic inputs.
The Overbys employ no-till farming and manage inputs — chemicals and fertilizer — for minimal use. The key thing on flax is not to use any desiccant as a harvest tool. That means no glyphosate (Roundup).
The Overbys have been involved with ADM for about 10 years. They had produced sunflowers for ADM (and Cargill), and moved into Nusuns and high-oleics. Paul grew peas for ADM's new facility at Enderlin, North Dakota, when the company entered the alternative protein market.
"It is not organic," Paul said, of the regenerative descriptor. "It doesn't mean you don't have any chemicals. It's just, 'How little can we use?'"
The Overbys scout the growing crop, looking for disease that requires a fungicide.
"We scouted aggressively," Paul said.
Paul and Diane planted cover crops last year in preparation for this year's flax, which they "no-till" planted in the spring. Paul said flax itself is earth-friendly because it doesn't need phosphorus fertilizer and needs very little nitrogen fertilizer.
Paul's chemical weed control is limited to a Spartan Charge, a pre-emergent herbicide designed to tackle ALS- and glyphosate-resistant kochia, plus preplant burndown of broadleaf weeds. They can use only one pass with a post-emergence chemical. Importantly, Overby said the contract excludes the use of glyphosate as a pre-harvest desiccant, which is typically done with straight-cut combining.
"We can't use glyphosate on because it is very specifically going into the food-grade market," Overby said. "Consumers are getting very nervous about … finding traces of glyphosate in the food supply. It's something we're going to have to deal with."
When the seeds are ripe and dry, Diane swaths the flax. Immediately afterward, Paul picks it up with the combine.
"The flax itself is ripe and dry, but the straw is green," Overby said. The quick pick-up is designed to prevent windrows blowing in the wind.
Harvest worked well on Sept. 30, 2022, with temperatures in the 60s, sunny and dry. If it had been in the 50s and cloudy, it would have been tougher, Paul acknowledged.
"This contract needs to have a premium. If they're going to require no glyphosate, they're going to have to have a premium because it does add risk to the farmer for harvestability," Overby said.
Paul's father, Glenn, farmed conventionally. He chisel-plowed a couple of times in the fall and cultivated in the spring, running a disk in front of the drill. He also raised flax. Glenn was an early-adapter for starter fertilizer use.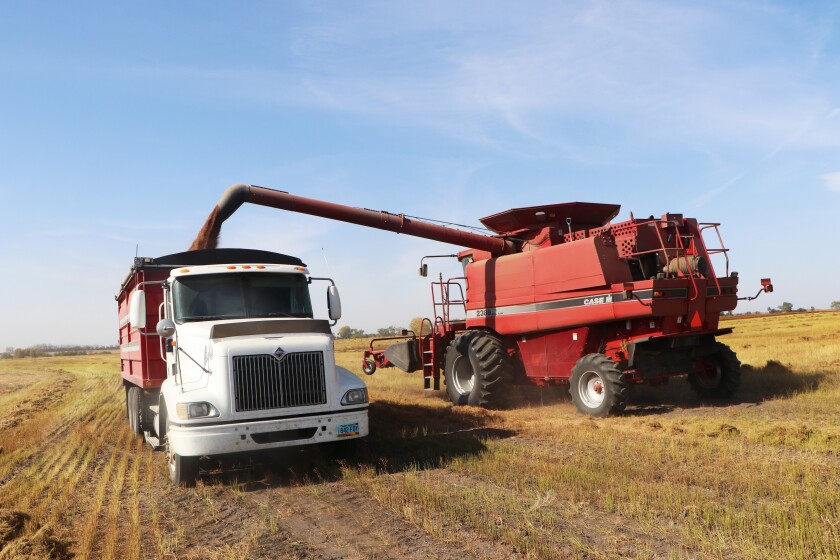 Paul graduated high school in 1977. As the farm crisis developed, he went on to North Dakota State University, where he was active in student government and Republican politics. He graduated at NDSU 1982, with degrees in agricultural education and agriculture, into the teeth of the farm credit crisis.
With slim profits at the farm, Paul worked off-farm at the Fargo United Republican Committee and then North Dakota 4-H Foundation. In 1988, he went to Nebraska to work the unsuccessful re-election campaign for U.S. Sen. David Karnes, R-Neb. (Karnes made the mistake of suggesting "decoupling" farmers from subsidies and suggesting the country needed "fewer farmers." Karnes was defeated by former Gov. Bob Kerrey, the Democrat.)
Post-election, Paul took a job as vice president of development at Great Plains Regional Medical Center at North Platte, Nebraska. In 1989, he married Diane, from Frazee, Minnesota, whom he'd met in Toastmaster's back in Fargo. Diane worked in marketing for Great Plains Software (later Microsoft), and then in newspaper advertising.
In 1993, Paul's parents retired at the farm.
ADM's Red Wing, Minnesota, plant has always produced flax seed oil for industrial purposes and has been certified for human food in a specialty market under the Knwble Grwn brand.
"We chose to give up our suit-and-tie careers and move north to Dakota and start farming," Paul said, laughing.
Today, they still operate about 1,800 acres on what's called "Lee Farm," named for a maternal grandmother's surname. It includes 1,350 acres of crops. They raise canola, field peas, flax, sunflowers, sometimes soybeans, oats and hard red spring wheat, as well as cover crops.
Also in 1993, the climate turned wet in the Dakotas and Canada.
On top of that, in 1996, Congress passed the "Freedom to Farm" bill that allowed farmers to plant more crops than the standard "program crops" like wheat and barley. The Overbys added field peas, sunflowers and canola. Meanwhile, Paul served on a local co-op board and was a part-time ag mediator for the North Dakota Agriculture Department.
In the early 2000s, the Overbys became active in the Manitoba-North Dakota Zero-Till Association. The group had started in the dry 1980s as farmers converted to no-till to save moisture.
In 2005, the Overbys converted the whole-farm to no-till, confirming the benefits with yield monitors.
"It all actually fits into the long-term 'regenerative' ag," Paul said. "I just didn't know it."
Diane admits that at first, she thought Paul was a "lunatic" for shifting to no-till. After two or three years, she was impressed with improved yields and ability to get machines into the field after a rain.
In 2005, Paul became a part-time farm business management instructor at Lake Region State College, in Devils Lake, working with the Dakota Center for Precision Ag Technology. In 2007, he established Verdi-Plus, a reseller of Trimble agricultural software. In 2009, he went on the Northern Plains Resource Conservation and Development Council, and became its president, helping advance cover-cropping.
As he grew crops more renewable, he delivered some crops into smaller-scale "food-grade" markets.
But the Man-Dak Zero Till group was unsuccessful at getting the larger food industry to connect to soil health. Paul got off the board in 2015. The group disbanded in 2016. Meanwhile, Paul went on an advisory committee for the Sustainable Agriculture Research and Education grant program. In 2017, he went on the advisory board for the NDSU Ag & Biosystems Engineering Department.
In 2019, an ADM official approached the Overbys about an idea to get into products that supported "soil health." That led to the 2022 Knwble Grwn contract.
Looking ahead, Overby hopes consumers will become more interested. And the Overbys would like to hand things over to a younger family with similar ideas.
"I am very hopeful that there is a whole bunch of young people that want to try this," he said. "One of our needs is going to be finding young people who want to try this, and meet Paul and Diane Overby, and maybe we can get together."
Mayor Jim Paine said the city worked best when people could live, work and play in their own neighborhoods, and his goal is to create an environment where that can happen again.